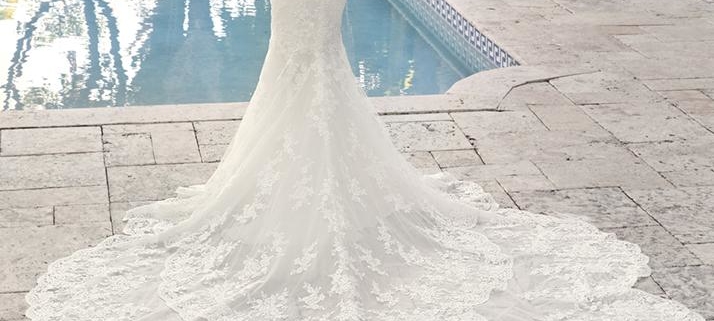 By Jaclyn Ianetti
 What makes your bridal gown unique? 
What sets you apart from all other brides? 
It's not about fancy designer labels and price tags.  It's about taste.  If your dress matches your fashion personality, then it will be sure to speak unique.
Gown Guidance …And always let your CLOSET be your guide
First, you must build on your own everyday look.  Whether you're a trendsetter or the more laid-back type, go to your closet for some inspiration.  The muse is your closet.  It will help guide you towards a gown that showcases your fashion philosophy.
What's your style sense? 
Mod Girl : Less is always more for the cool, modern lady.  Sleek lines, subtle shine, and graphic jewels max out your minimal approach.
 Retro Romantic:  You're a 21st-century chick with a vintage vibe.  Plush textures and antique-y accents merge the past with your present.
 Screen Siren:  Unleash your starlet power with glittering gems, killer heels, and one very red-carpet gown.
 High Maintenance :  For the more extreme types, sparkly baubles/trinkets, blatant bows, and a passion for pink are your fashion faves.  You're looking forward to the role you were born to play, princess. 
 Changeable Chameleon: Say you're a little bit of each of the above "labels"…not a problemo.  That just means you're one edgy chick with too big a personality to settle for being categorized into fitting into just one type of style.  If you embody many layers to your style personality, peel each & every one of them to reveal your whole self and incorporate a bit of everything to really let your colorful personality shine. 
* * * * * * * * * * * * * * * * * * * * * * * * * * * * * * * * * * * *
So, what makes your gown so special? 
Creativity is the key to really making a unique statement.  Here are some creative suggestions from gown tips, accessories, shoes, and hairstyles…all of which will contribute to the overall portrait of your style, and therefore, giving your gown the ultimate unique boost you dream of….
 . . GOWN. .
Color
If white isn't your color, who says you have to wear a white bridal gown?   Opt for a gown in your favorite color.  Wedding gowns now come in all sorts of beautiful ones, from bold blues and hot pinks, to greens, golds, and even reds.
If you're finding it hard to convince your loved ones (your groom or mom) that color is completely appropriate, you might want to consider donning a traditional white wedding gown for your ceremony, then slipping into something in a bold hue for the reception.
There are even several wedding gowns available today that boast two-in-one designs specifically designed for this purpose: short dresses with long, see-through layers on top; two-piece gowns with interchangeable skirt and pant options; and body-skimming sheaths with removable floor-length sheer jackets (the 2-in-1 dress).  It may not be the super short and sexy shift you originally pictured yourself marrying in, but look at it this way: everyone will be happy, and you'll get to wear two gowns, instead of just one!
 WHITE GOWNS
If you like the idea of the traditional, plain white dress, you can always add in some color to the details.  There is nothing wrong with replacing some of your dress' accents with color.
Read more Part 2 and Part 3
https://aleanasbridal.com/wp-content/uploads/2019/07/1031-6222-1-e1596299497397.jpg
818
714
Svetlana Zakharina
https://aleanasbridal.com/wp-content/uploads/2020/04/logo-300x138.png
Svetlana Zakharina
2013-06-07 13:48:34
2020-08-01 15:34:44
Bridal Gown Spotlight (Part 1)