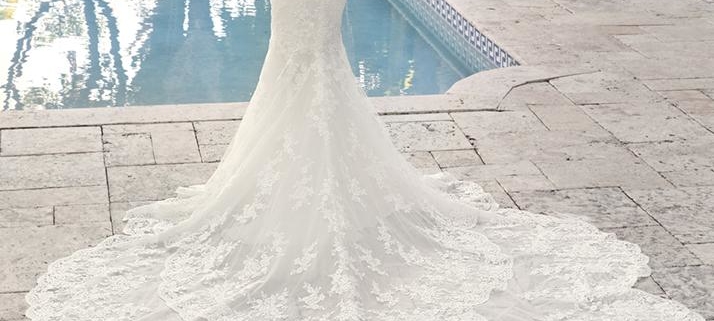 Have you ever wondered about the world's longest wedding gown train? Or how about the most expensive wedding in history? We rounded up some of our favorite wedding facts from across the world ranging from the most outrageous to crazy and fun.
1. The world's longest wedding gown train. 
 Dressmakers in China recently created this nearly three-mile-long train for a bride named Jing-Mei. Reports from photo agency ImagineChina: the gown weighs 120 pounds and took more than $6,500 to make!
2. A Cake Fit for a Queen!
Let's just say this wedding cake suits best for a Queen and who better than Queen Victoria. Her wedding cake weighed a whopping 300 pounds!
3. The most expensive modern day wedding.
In the priciest modern-day wedding to date, the prince of Abu Dhabi has outdone them all. He had a 20,000-seat stadium specially built for his seven-day wedding to Princess Salama in 1981. This wedding in total cost  $100 million.
4. Las Vegas is the leading wedding destination with an average of 115,000 weddings a year.
Looking to elope? No problem, because Las Vegas has got you covered, with it being the leading destination for couples to get married.
5. Most Expensive Celebrity Engagement Ring. 
Look at that rock! Richard Burton did not mess around when he made Elizabeth Taylor his fiancé, not only because they got married twice but because of this breathtaking engagement ring. The estimated worth of this ring is 8.8 million dollars and has 33.19 carats!
6. Underwater wedding? Why not? 
Talk about incredible! On February 14, 2001, the Trang Underwater Wedding Ceremony in Thailand made it to the Guinness Book of World Records for the "Most number of couples to be married underwater." On that day, 34 couples from 22 countries exchanged wedding vows 10 meters (32.8 ft.) underwater.
7. Then and Now. 
Welcome to Buckingham Palace! Where William and Kate stepped out onto the balcony on their wedding date April 29, 2011 to recreate a kiss made famous by Charles and Diana in 1981.
8.  If you thought your bridal party was big… wait until you see this! 
Couple sets World Record with 126 Bridesmaids, 25 best men, 20 pageboys and 23 flowers girls. The previous record was 96 bridesmaids at a wedding in Thailand.
9. The tradition from the ancient Greeks and Romans. 
Brides traditionally wore veils on their wedding day because the original thought stemmed from the ancient Greeks and Romans, which believed that the veil protected her from "evil spirits."
10. Let's end on a sweet note! 
A German study found that men who kiss their wives before leaving for work live longer, get into less car accidents, and have a higher income than married men who don't. The reasons behind why this is possible are because kissers begin the day with a positive attitude.  It is believed that those who don't experience this go out of the house with a lack of confidence.
This article brought to you by Aleana's Bridal, Paramus, NJ.
https://aleanasbridal.com/wp-content/uploads/2019/07/1031-6222-1-e1596299497397.jpg
818
714
Svetlana Zakharina
https://aleanasbridal.com/wp-content/uploads/2020/04/logo-300x138.png
Svetlana Zakharina
2015-08-01 12:39:00
2020-08-01 14:37:34
Outrageous Wedding Facts From Around The World