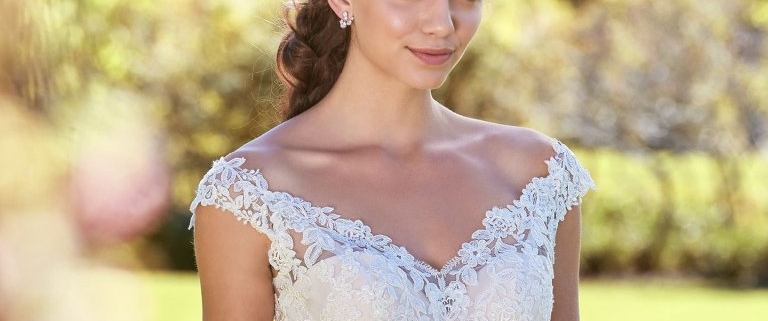 This article brought to you Aleana's Bridal Shop Bergen County, NJ.
The bridal gown's fabric affects both its beauty and price. The medium to low priced gown usually made from man-made, affordable fabrics such as polyester satin, polyester chiffon, and polyester organza.
When you are shopping for a wedding dress always ask the salesperson what is the fabric of the dress. The most popular bridal fabrics are: "satin", "taffeta", "chiffon", "dupioni", "brocade", "Georgette",  "jacquard", "crepe", "crepe de chine", "Organza" and "charmeuse". Don't assume that those fabrics would be made from natural fibers. You always should ask, "What is the content of this fabric?" If the answer is "Silk", you know you are buying the queen of textiles, the most luxurious fiber in the world.
Silk comes in many different thicknesses and textures; it can be soft and shiny, or shiny and rough. The weaving and knitting of silk fabric may contain minor variations and irregularities that should not be treated as defects. Silk fabrics are always slightly off white because silk is a natural fabric.
Silk is one of the best bridal fabrics that is perfect to wear in any season. It is warm in the cool season, yet cool enough when it's hot. Silk fabrics are usually lighter, more comfortable and breathable than man-made fabrics. It would be your choice if you have a Sensitive Skin. Silk has natural thermostatic properties and contains many amino acids that help moisture penetrate the skin (aid in absorption) and aid in skin healing.
If it's always been your dream to have a silk gown but thought they were too expensive come to Aleana's Bridal in Paramus, NJ, where 80% of our gowns are made from silk fabrics at a very affordable price. We proud of our silk bridal collection and confident that you will be able to find your special dress.
Please schedule your first appointment at www.aleanasbridal.com.
https://aleanasbridal.com/wp-content/uploads/2018/03/Nancy-8RS539-Alt2-e1601148575477.jpg
655
768
Svetlana Zakharina
https://aleanasbridal.com/wp-content/uploads/2020/04/logo-300x138.png
Svetlana Zakharina
2013-01-22 18:46:55
2020-09-26 15:29:55
What you need to know about wedding gown fabric