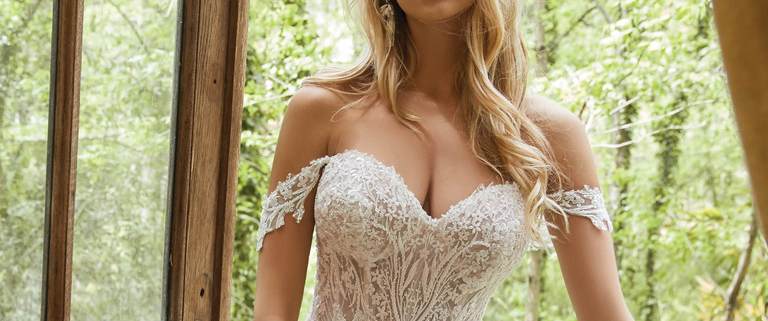 This article brought to you Aleana's Bridal Shop Bergen County, NJ.
Brides by body type: What's your aisle style?
….And once you thought the mission was accomplished of you being so lucky enough in life in finding the ONE…the one person who suits you so well, your best friend, your soul mate…a sigh of relief is put on hold once more because you need find the OTHER ONE: your perfect wedding dress.
 You may try on four or five gowns, still being unsure of which one you want.  Exhausted and ready to give up for the day, your mother, sister, or best friend (or maybe all three!) will eye-ball one last dress that they beg you to try on.  Reluctantly, yet with grace (because this is all about you!), you give in.  After trying on the gown, you may turn and see your loved ones break down in tears.  Then you turn and look at yourself in the mirror.  Your reflection leaves you awestruck.  You begin to cry…This is it, your moment…you found the one.  It stunningly fits like a glove, and you finally feel like a gorgeous bride!
Sometimes your family & friends can see your strengths and flaws easier than what your own eye is capable of seeing.  Notice how we take notice from a compliment of a stranger?  When someone acknowledges or reassures us of something, an instant rush takes over our bodies.  We are suddenly swollen with a moment of pure happiness and self-confidence.  Let that someone be someone closest to you, and include them in your days of wedding dress shopping.  Their eyes may see something yours miss.
The right clothing to suit our body types, the right or "perfect" wedding gown may not even be in our radar.  We have a certain sense of style instilled in us and that is our taste in fashion that we usually stick to.  This doesn't mean that we should change our tastes, but to just become more aware of how to choose the proper dress and details that work with us and our bodies.  A dress that fits is a dress closer to perfection.  And don't we all want to look perfect (our best) on our wedding day?
"CHOOSE THE RIGHT STYLE
BEFORE WALKING DOWN THE AISLE"
 Identifying the type of body you have first will help you understand what dress works best for you.  Every bride wants to looks her best on the big day, and by keeping an open-mind by viewing several styles of wedding dresses for your body type can help you choose the most flattering fit for your figure.  Look for a dress that creates a balanced build.  Once you begin to understand what body type you are, it will be easier to concentrate on certain styles that accentuate the shape of your body.
Refer to our simple guide to get started: Rectangular Body shape, Hourglass Body shape, Apple Body shape,  Spoon Body Shape.
This article brought to you by www.aleanasbridal.com a bridal shop located in Paramus, NJ.
https://aleanasbridal.com/wp-content/uploads/2019/07/Nia-e1601148192128.jpg
601
768
Svetlana Zakharina
https://aleanasbridal.com/wp-content/uploads/2020/04/logo-300x138.png
Svetlana Zakharina
2013-01-22 18:51:27
2020-09-26 15:28:51
Love your body