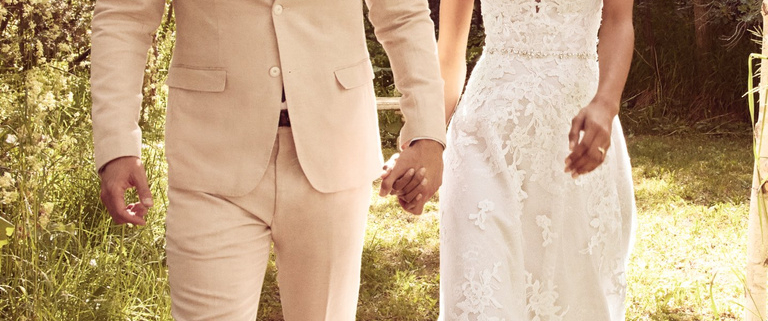 This article brought to you by Aleana's Bridal.
Read Part 1 first
Selective Servings
In the most traditional version, a cocktail hour with hors d'oeuvres is preceded by a seated dinner of three courses: The first course is typically an artfully arranged plate of appetizer-friendly foods. The main entree usually includes a meat or fish, such as filet mignon or grilled salmon (include a separate dish for your vegetarian guests!) accompanied by a starch, such as rice or potatoes, and maybe even quinoa for your holistically fit guests, and a vegetable, like asparagus or broccoli.  Dessert may or may not be your wedding cake; some couples serve a separate dessert, something light and refreshing such as a sorbet, and save the wedding cake for later in the reception…during the "dance party."
Forget the standard menu at weddings that you're familiar with and go for more distinctive flavors to really give everybody something to remember from the most memorable dinner party of your life.  This can be more complicated and challenging, but also exciting.  Whether from around the world…Italian pastas & panini sandwiches, Spanish tapas, Japanese finger foods…to a particular part of your favorite country or island (Hawaiian, Southwestern, or Cajun cuisines), or from your own family's kitchens….choose what you like & GET CREATIVE !
Dare to be Different
Varying your courses is actually a strategically smart thing to do.  If you are having seafood as a starter, (say, as a few appetizers in cocktail hour), then avoid it as a main course.  If you want a light afternoon tea followed by a formal dinner in the evening…or red wine and cheese during speeches and toasts, then go with it.  It's YOUR day, so YOU choose…and feel free ENTIRELY to choose food that you love and want to eat…to a certain extent, of course.
Just remember that your guests' culinary tastes might not be as adventurous as your own.  For the more conservative palates: limiting more exotic foods in appetizers is one way to do it.  And be sure to include kid-friendly foods if children will be at your wedding (chicken fingers, fries, individual pizzas so they can have their own little pizza party).
*SAFETY TIP! : Always arrange for food tastings at your venues of choice first so you are fully confident in the abilities of the chefs to pull off any designed dish that is adventurous as well as the more "safe" ones.
Read Part 3 and Part 4 next
https://aleanasbridal.com/wp-content/uploads/2019/07/COurtney.jpg
1024
768
Svetlana Zakharina
https://aleanasbridal.com/wp-content/uploads/2020/04/logo-300x138.png
Svetlana Zakharina
2014-03-19 15:30:10
2020-08-01 14:50:37
How to choose your wedding menu (Part 2)