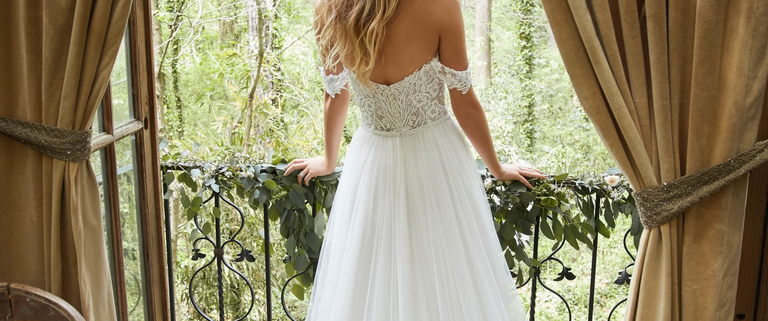 This article brought to you by Aleana's Bridal store in Paramus, Northern New Jersey.
You've finally found your bridal gown. What a relief! Now it is time to complete a few more steps so that you can have an idea of what you will look like on your special day. A hair and makeup trial is strongly recommended. The last thing you want is to end up with a super hard, messy 90's prom looking hair-do the day of your wedding. Unless you have a hair dresser you usually go to, scope out the salons in your area. Ask to see a portfolio of makeup and hair they've done in the past. This will help you decide where to have your trial.
Once you select a salon, schedule your trial. This should not be any longer than three months before the wedding. Too much time between your trial and your wedding might result in your changing your mind which would defeat the purpose of the trial. After your trial, you want to leave with the style you love to have for the big day. This is your day. By now you've probably browsed hundreds of magazines, websites, blogs and pictures for wedding inspiration. Hopefully you've been able to figure out what type of hair style you plan to go for. If you have an image, or even if it isn't exactly what you want, bring the picture along so that your stylist can get the idea.
On the day of your trial, make sure that you have enough time to enjoy the experience; your actual hairdo could take hours. Some salons also offer make up trials at the same time. If you choose a salon that offers this, and you will be getting your make up done, perfect! If not, be sure to put on makeup and look your best. It is strongly recommended to plan a night out after your trial. Your wedding is going to be full of dancing, running around and will be quite long. The last thing you want is to end up with a hair style that taps out after the ceremony. Plan a night out with the girls and let loose. See if your hair can keep up.
Read Part 2 next
https://aleanasbridal.com/wp-content/uploads/2019/07/nia3-e1596298729797.jpg
668
768
Svetlana Zakharina
https://aleanasbridal.com/wp-content/uploads/2020/04/logo-300x138.png
Svetlana Zakharina
2013-10-18 10:38:51
2020-08-01 15:30:16
How to plan your wedding day hair (Part 1)