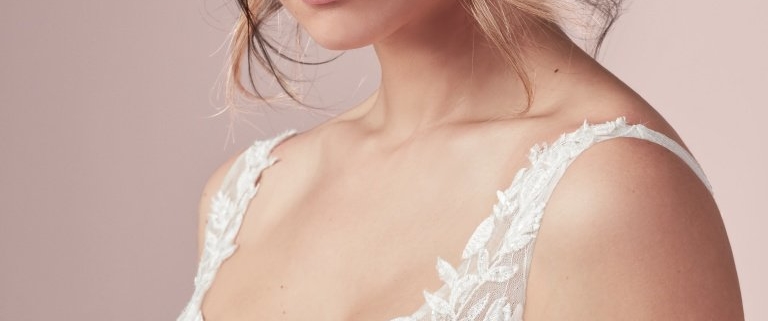 This article brought to you Aleana's Bridal Shop Bergen County, NJ.
Astrological Wedding Guide (part 2)
read part 1
By: Jaclyn Ianetti
 Here's a cosmic guide to the wedding of every sign's dream.
VIRGO (August 24-Sept 23):  "The Picky Princess"
You're a simple kind of girl, but your wedding day is an exception.  You want to feel like an absolute princess on your wedding day.  Handling the production details will be important to your practical sign, and you'll work side-by-side with your wedding planner (or may even chose to wear that hat yourself) to craft a spreadsheet that tracks your budget, vendors and timeline.  You want to make sure every guest is exquisitely taken care of, with gift baskets waiting in their hotel rooms and special favors on their dinner plates.  But make no mistake: You're the Queen Bee of this day!
LIBRA (Sept 24-Oct 23): "The Goddess of Glamour"
Your wedding should be a gorgeous day of love and sentiment.  Libra is the sign of relationships and ruler of the zodiac's marriage house…and also is the sign governed by Venus, the planet of love, beauty and romance.  You want tons of flowers, poetry, music, champagne and other sweet touches.  Your sentimental side will come out in full force, not that it's ever really hidden.  You love to get glamorous, so book a full glam squad for pre-wedding pampering before you slip into your show stopping gown.  Of course, your nails are your biggest priority, so a meticulous manicure and pedicure are at the top of your list before the big day!
SCORPIO (Oct 24-Nov 22): "The Sexy Shadow Girl"
Admit it Miss secret Scorpio…you've been planning this day since you were a little girl, down to the very last detail.  You know exactly what you want and where to get it.  Picking out the ring, the dress, and the cake will seem like a piece of cake to you! –because you know the styles, the shops, and the exact store locations as to where to hunt them down and find exactly what you're looking for.   You want this to be the most memorable (and picture-worthy) day of your life.  The icing of the cake for you is the chance to channel your creativity and show off your impeccable taste.  Scorpio is a private sign, so you may want to keep the guest list small enough to make your wedding intimate and meaningful.

SAGITTARIUS (Nov 23-Dec 22):  "The Wild Child Wedding"
Adventurous and fiercely independent, you're hardly the traditional bride. Just because you're getting married doesn't mean you're not the same wild-and-crazy girl, and your wedding proves it.  If that means hiring Cirque du Soleil performers, setting up a karaoke lounge, or eloping to a Vegas chapel, so be it.  You've got a zillion friends from all walks of life, so bringing them together for a fun, memorable day could take quite a toll on your budget.  As the sign of the traveler, you may want to host a destination wedding, or just have everyone gather informally on the beach or in a big open field for your vows, before heading off to a separate reception.
CAPRICORN (Dec. 23-Jan 20): "The Loyal Lover"
You take "till death do us part" right to the very core of your heart.
Deeply traditional, Capricorn takes her vows and commitments seriously. When you give your word to something, you really do mean exactly what you say.  Family is a big part of why you're getting married, so you'll honor your very own by having the wedding location in your "childhood church"…a house of worship you grew up going to or even in your parents' backyard.  You like simple and classic with a VIP twist, and that will be expressed in your dress, your ceremony and your reception.  The ultimate giveaway that you're a Capricorn bride?: Your understated elegance and pared-down wedding style…which makes you an instant icon.
AQUARIUS (Jan 21-Feb 19): "The Bohemian Badass"
Think: Barefoot in the park or at the beach.  With your bohemian soul, you want a wedding that defies convention and expresses your unique, quirky personality.  As the sign of group activity and friendship, you're most concerned about the guests having a good time and feeling at ease.  You'll add creative, funny elements to ensure that.  You want it to be relaxed and fun for everyone, with more laughter than tears.  Chances are, you're marrying your BFF, and you want to make sure the playful spirit of your bond is expressed.
PISCES (Feb 20-March 20): "The Mystical Mermaid"
You're the zodiac's sign of fantasy and illusion, and your wedding should sweep people away to a magical land.  Romantic to the core, you want the fairy tale, albeit with a creative twist.  You take pride in your "indie" tastes and will have a ruling hand in the music playlist, the decor and other aesthetic details.  Pisces is ruled by Neptune, mythic god of the sea, so a beach ceremony or one surrounded by water will suit your fancy and make you feel like a true aquatic angel.  Your inner mermaid emerges with the help of sequins, shimmery satin, pearls, or even a fishtail gown.
Photo credit to: Remko van Dokkum on Flickr
Aleana's bridal shop located in Paramus, NJ. Please schedule your first appointment at Aleana' s Bridal Shop or call at 201-444-1500.
https://aleanasbridal.com/wp-content/uploads/2018/03/Molly-9RN805-Alt1.jpg
1024
768
Svetlana Zakharina
https://aleanasbridal.com/wp-content/uploads/2020/04/logo-300x138.png
Svetlana Zakharina
2013-01-21 17:56:18
2020-09-26 15:31:19
Astrological Wedding Guide (Part 2)