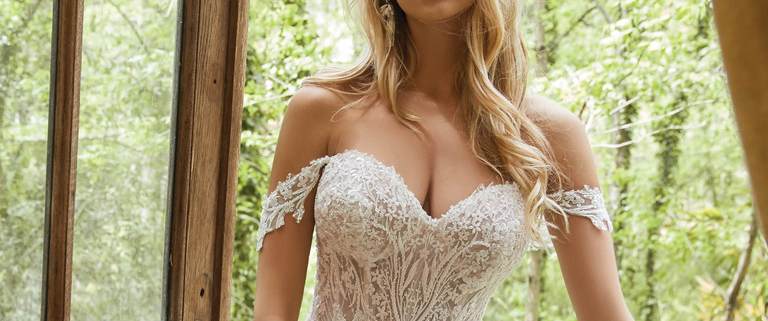 This article brought to you by Aleana's Bridal shop, Bergen County NJ
Read Part 1 and Part 2 first
You should be clear from the start about what you know for sure you do not want.  But the whole point of the matter is to not be afraid to try on styles you might not have previously considered to be one of your options.
You may just surprise yourself about what you like and what your taste is…so if something catches your eye, or somebody surrounding you strongly suggests something, just try it on.  It can't hurt…and it can help a whole lot!  And some of the most amazing dresses can even look awful on the hanger, but once you try it on your actual body…it can be a whole new story.
Make sure you really get what you want, but you have to try on different styles to get to this point so that by the time you try on "The One," you will truly know for sure.
*Don't deny your dignity….ever.  If you ever feel uncomfortable or like your feelings are being ignored, then you owe it to yourself to say no and leave the appointment.  Don't ever let others' stressful statements or energy affect you and escalate to an intensely stressful level.  To avoid stress, listen to the advice of the shop assistant and use their expertise and knowledge to the extent you wish to use it, and never take it further than what you feel comfortable with.
Be clear and honest about who you are, and what you want and what you don't want.
*Look back and keep track….let your camera (or camera phone) tag along into the dressing room with you.  Having pictures of different dresses can help you remember all of what you tried on….and you could post some of your faves on your vision bridal board I referred to in the previous article.  It will enable you to keep record on your bridal soul search journey towards your perfect gown.
(Do make sure with the shop that you are allowed to do this beforehand, as some stores may simply refuse to let you and restrict this in their policy for further reasons).
*Another "techie tip": Utilize technology by incorporating video calling apps on your phone or iPad, such as FaceTime or Skype, into your dress shopping experience…especially to send and show to family members or friends who are not present at the time so you can receive instant feedback from them.
Read Part 4 next
https://aleanasbridal.com/wp-content/uploads/2019/07/Nia-e1601148192128.jpg
601
768
Svetlana Zakharina
https://aleanasbridal.com/wp-content/uploads/2020/04/logo-300x138.png
Svetlana Zakharina
2014-04-03 16:39:09
2020-08-01 14:47:31
How to shop for a wedding dress (Part 3)