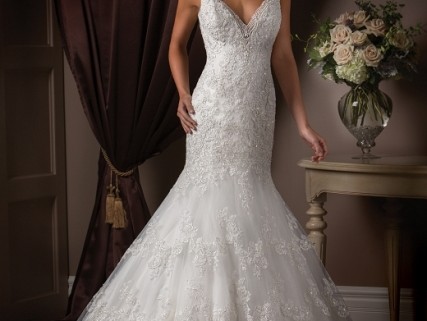 This article brought to you by Aleana's Bridal shop NJ
Read Part 1, Part 2, and Part 3 first
*Alternate options for you non-shoppers: If you really dread the idea of dress shopping from store to store, you can forgo it all together and either just work with a solo dressmaker or shop online.
–        "Matchmaker": Working one-on-one with a dressmaker can be a very intimate, fulfilling experience if you two connect very well and her creations magically match your wishes.
–        Virtual dress realms:  If you do order online, make sure you do so in plenty of time in case it doesn't look, or fit, as you expected it would when it arrives.  Also, be aware that if you are ordering from overseas you'll often have to pay custom charges.
*Communication is key…ask questions and keep the flow of honest feelings into conversations going! To avoid any misunderstandings through lack of communication between you and the bridal shop you will be a client to, educate yourself beforehand as to what you're allowed to do/bring, and be honest and just be yourself once you go to fittings to be as stress-free as possible.
I hope some of you brides-to-be find these tips valuable, and I hope it triggers even more thoughts to be conjured in your own mind as to what you can do as an addition to stress-free and smart, strategic planning.
CROWN YOUR GOWN
Remember to approach dress shopping as an absolute experience…not a result/destination.  By doing this, (ironically but beneficially), you will achieve the result you most desire, escaping the daunting and mundane experience of trying on gowns.
Most importantly, listen to your own head and heart…because nobody knows you better than you know yourself.  Wear your wisdom as the crown on top of your head…(and later, a veil).  You know the man you're marrying is "The One," and that same intuition and wisdom will guide you for when choosing the right dress.
This is how you will come out alive…and your real "crown" will be your most perfect gown.
https://aleanasbridal.com/wp-content/uploads/2015/08/T172006-F.jpg
640
427
Svetlana Zakharina
https://aleanasbridal.com/wp-content/uploads/2020/04/logo-300x138.png
Svetlana Zakharina
2014-04-03 16:37:24
2019-01-10 18:12:02
How to shop for a wedding dress (Part 4)