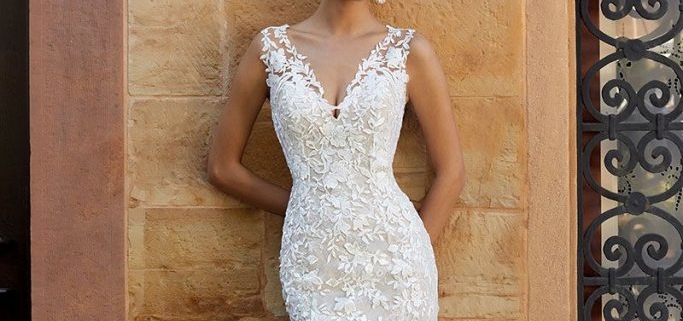 This article brought to you Aleana's Bridal Shop Bergen County, NJ.
Turn to the Universe…for Guidance to your Gown
By Jaclyn Ianetti
What a magical day it is…if you happen to find just the right wedding gown… with out too many complications, within a reasonable amount of time, and without trying on a trillion dresses.  However, how can you be so sure you're going to be that lucky as to finding a dress within the first selection or at the first store?  You can't put all of your bets on destiny, depending on the stars & fate alone to bring you your perfect dress!  Unless, of course, you look to the one star that can guide you: the Sun.  What's your Sun sign?
Meet the fate of the cosmos by working with them.  Before heading out dress shopping, be in control of the magic and cast your own spell on your bridal dress day: peek into the crystal ball of the zodiac and let your astrology sign reveal the perfect look for you.
Astrology will reveal your "wedding dress horoscope" and predict whether you'll swish down the aisle in an elaborate ball gown, make a statement in a stunning, low-cut satin sheath, shine in simplicity with a more classic, refined taste, or flaunt an elegant yet edgy look.
Will be right on point, fitting the qualities of your sign? Or, are you like many others who will choose a style dress that represents your moon sign and/or rising sign/ascendant?  Complete a full birth chart first and foremost if you are not already aware of your moon sign and rising/ascendant sign.  These signs are just important as your sun sign, and can reveal a lot about you, so look to them too for additional support on selecting a bridal gown to lead you in the right direction.
Pisces (February 19 – March 20) The Dreamy Princess
Aries (March 21 – April 20) The Bold Beauty
Taurus (April 21 – May 21) The Comfort Creature
Gemini (May 22 – June 21)Miss Pretty, Playful Personality 
Cancer (June 22– July 23)The Soul Sister 
 Leo (July 24– Aug 23) The Drama Queen
Virgo (Aug 24– Sept 23) The Victorian Virgin
 Libra (Sept 24– Oct 23) The Balanced Bombshell
 Scorpio (Oct 24– Nov 22) The Sultry Siren 
Sagittarius (Nov 23– Dec 22)The Free Spirit  
Capricorn (Dec 23– Jan 20) The Classic Charm
Aquarius (Jan 21– Feb 19) The Retro Rebel  
Schedule your first appointment at Aleana' s Bridal Shop
https://aleanasbridal.com/wp-content/uploads/2012/08/8043_COV115-683x1024-1-e1601147762883.jpg
640
683
Svetlana Zakharina
https://aleanasbridal.com/wp-content/uploads/2020/04/logo-300x138.png
Svetlana Zakharina
2013-01-22 18:39:51
2020-09-26 15:24:51
Dress by Zodiac