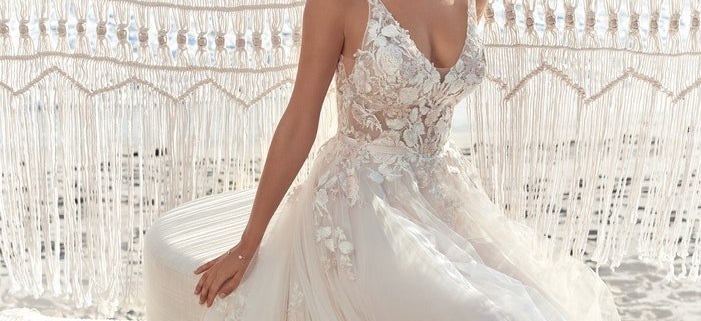 This article brought to you Aleana's Bridal Shop Bergen County, NJ.
Cosmic guide to the wedding of every sign's dream.
By: Jaclyn Ianetti
Just incase someone in YOUR life decides to put a ring on your finger and your suddenly swamped with initial wedding fantasies filling up in your head, this quick guide will give you a glimpse into the visions of your true wedding wishes according to your zodiac sign.  By connecting with the cosmos, you will be more in touch with the overall image of how you want your wedding day to look and turn out just by keeping in mind what matters most to you.  Be sure you know your sun sign as well as your moon & rising signs, which can also help to pull all the pieces together to creating that vision.  This visualization is a sneak peak to your wedding day, as it reflects all of the colors of your imagination…and your imagination will lead you to your truest wedding dreams.  Astrology can help show you what belongs in your mental picture…a first step that beautifies the final outcome of your wedding day.
ARIES (March 21-April 20):  "The Royal Ram"
Think Mariah Carey:  Royal, rich, extravagant.  Aries brides want a wedding that is fit for royalty.  Whether it is your first walk down the aisle, or a third trip to the altar, you want the full white bridal affair.  However, there is also a tomboyish aspect to many Aries who would much rather skip those stereotypical trappings.  If you are this type, you might prefer to spend your bridal budget on a trip around the world instead.  Bottom line:  You're impatient and want a wedding that reflects your individuality without compromising your independent nature.
TAURUS (April 21-May 21):  "The Beautiful Bull"
Think Donatella Versace:  Simple sophistication.  Luxury-loving Taurus has refined taste, and your wedding day is a chance to show that off.   Although you can certainly be over-the-top, your wedding will be chic & classy, not tacky.  As an Earth sign, you love an outdoor element.  An outdoor ceremony under a wedding arch, or billowing white tents with chandeliers or floating lanterns and a lavish buffet of gourmet, local food can fulfill your wedding wishes.
GEMINI (May 22-June 21): "The Teasing Twin"
Think: Games, jokes, joy & laughter…adventure & adrenaline rushes.  For you, getting married is all about fun.  If your adventurous sign is going to commit, there better be some adrenaline involved.  You'd rather strap on a parachute and say your vows while jumping out of a plane and skipping the traditional altar ceremony.  After the vows, you'll throw an awesome, informal rooftop party as your reception party…with everyone dancing until dawn.  You might even hop into the DJ booth yourself, or convince your guests to jump fully clothed into the swimming pool, leading the way in your wedding dress!
CANCER (June 22-July 23): "The Crab of Comforts"
You're traditional and sentimental, and weddings are all about family for Cancers.  Female relatives and friends are particularly important to you, and you'll want to honor your mom, grandma and lifelong best friend (who will undoubtedly be your maid of honor) with personalized segments of the ceremony and party.  Teary-eyed toasts, your mother's engagement ring (maybe even her dress) and a wedding on the beach all resonate with your sign's Water element and create the feeling of being comfortable and right at home.  Your biggest hassle will be getting your huge bridal party to agree on a dress color and length that they all like and can agree on.
LEO (July 24-August 23):  "The Loud Lioness"
Loud as in …Lights, Camera, and Matrimony!  Your showy sign loves to put on a theatrical production — and your wedding day is the perfect excuse. Choosing an appropriately dramatic venue and dress will be most important to you.  In fact, you may have several outfit changes (a different costume for each "act" is only fitting, right?).  Your main goal is to make sure that there's "too much" of everything: food, drink, merriment and, of course, romance.  Every poetic word of your vows, every toast, and every glass-clinking kiss should move people to tears.
Read more: PART 2
Aleana's bridal shop located in Paramus, NJ. Please schedule your first appointment at Aleana's Bridal Shop or call at 201-444-1500.
https://aleanasbridal.com/wp-content/uploads/2012/08/Rebecca-Ingram-Minerva-20RT721-PROMO1-SBLS-e1601147846281.jpg
739
701
Svetlana Zakharina
https://aleanasbridal.com/wp-content/uploads/2020/04/logo-300x138.png
Svetlana Zakharina
2013-01-21 17:59:22
2020-09-26 15:30:43
Astrological Wedding Guide (Part 1)