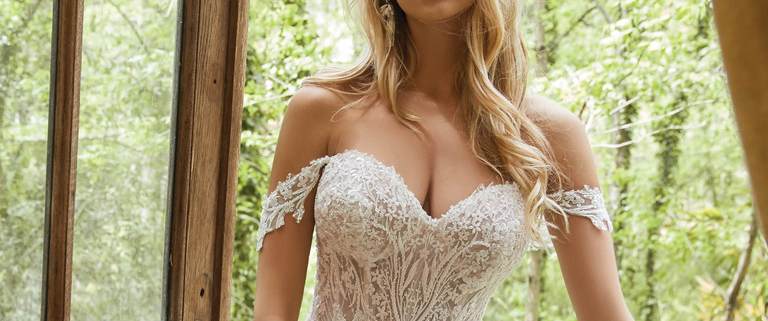 By Jaclyn Ianetti
 Bridal Gown…Check! ✓
Doesn't that look…and sound…a whole lot like how a "chore" would?  Instead of treating your dress as a chore to be checked off your "To-Do List," embrace it as an experience to be enjoyed.  After all, your dress is the one thing that shouldn't feel like a job hunt on your bridal journey in preparing for your wedding.
You want to enjoy your bridal dress shopping experience.  When you love what you're doing, it won't feel like work (as this same rule applies to many situations in life).
To make this into one of the most pleasurable experiences of your lifetime… instead of painful, dreadful, and drawing tear drops down your eyes…get your mind in the right place first.
*When we're rushing…especially with shopping…we will just buy anything for the sake of getting it done and checking off that "To-do" list.  Think of when you rush to the mall to buy a last minute gift for somebody you love.  It proposes more of a risk in buying just about anything at all, just to have something, whether personal or meaningful or not.  This is where the sincerity loses touch…and you want to know why?  Because you're not in the present moment!  When you're fully in the present moment, you're more in touch with yourself as well as with others.  And you need to be FULLY in touch with yourself to attract what best suits you.   So keep that in mind as you focus on the journey of finding your perfect dress.  Mantra: "It's the journey, not the destination."
CREATE A BRIDAL VISION BOARD!! : Your wants and wishes
This helps put all your visions into perspective…your styles, your common themes, etc. into finding the core of style you are mostly leaning towards.  First off, think about what you want, and what you wish to look like.  Spend some time really considering and contemplating over all your options and strategically scan the bridal magazines.  Tear or print out the gowns you absolutely LOVE, and soon enough, your true style will stand out…and hopefully even a specific designer!
This vision board is designed to help you manifest your visions and creations, thus making your shopping experience easier because you will have a better clue as to what you truly want once you connect the dots to see a common theme.
Style the board first…then you can style the aisle in your most beloved dress.
Read Part 2 and Part 3 next
https://aleanasbridal.com/wp-content/uploads/2019/07/Nia-e1601148192128.jpg
601
768
Svetlana Zakharina
https://aleanasbridal.com/wp-content/uploads/2020/04/logo-300x138.png
Svetlana Zakharina
2014-01-30 18:30:29
2020-08-01 15:21:06
How to enjoy bridal gown shopping (Part 1)