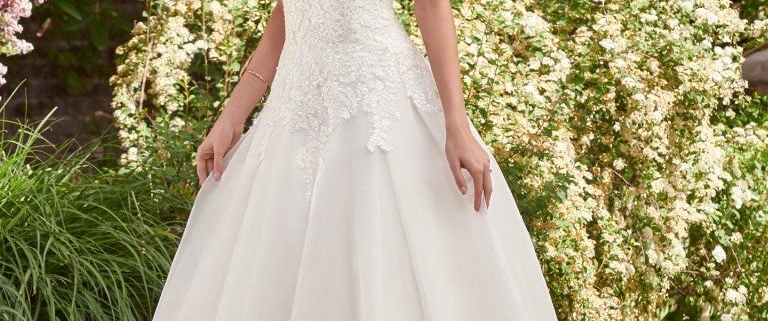 This article brought to you by Aleana's Bridal store, Bergen County, NJ
Read Part 1 first
Color:
A popular and unusual trend for spring/ summer 2014 is the use of pale colored fabrics. The use of the different colors is sure an alternative to the traditional white or ivory gown. Pale yellows, light peach, and sweet peony are examples of colors used within this trend. The most common color being seen on the runway is light pink. Gowns these colors may have sheer layers, making the color palette even more feminine.
 Neckline:
Illusion neckline is becoming a very popular neckline trend seen on the runway. The Illusion neckline is usually a neckline that provides coverage and is constructed from sheer fabric. This neckline is usually heavily embellished. Though this neckline does provide a lot of coverage to the bust and neck area it can also offer a hint of seduction.
The sweetheart neckline, one of the most popular necklines for a strapless gown, is trending on the runway with some new details. The sweetheart neckline has been seen to resemble that of a corset. The sweetheart also has been seen to have ruched chiffon overlays and subtle pleating. A new trend for sweetheart necklines is a black color blocking. This color blocking is an edgy variation of the classic neckline.
Lace shoulders are being seen on the runway for the spring/summer 2014 season. With an illusion neckline, this sheer lace is a very elegant look. The lace can extend past the shoulder, turning into three- quarter or long sleeves.
Many bridal looks on the runway for this season emphasize the "simple look" or natural look. This look is seen through the veils. Many veils popular for the season are simple and transparent. The edges of these veils are can be either raw or scalloped and the lengths vary from elbow to floor lengths. The trend for bridal make-up is a natural look.
 Accessories:
Blue accented accessories
Antique effects, such as heirloom- like quality to accessories
As a result of Great Gatsby and Downtown Abbey- 1920's inspired headpieces and art deco motifs
Flowers have a big influence on the headpieces, headbands, and clips for spring/summer 2014
The knot- The 1950s oversized bow comes back in style with lose tails. The bow can be placed at bustle of the dress or on top of head as a headpiece.
Feathers- Feathers create an ethereal theme. Feathers can vary in color. Feathers can be accented on garter and belts, or worn in the hair
Grecian Leaves- Leafy styles are being worn as headpieces. The Grecian leaves create a Grecian goddess look. The Grecian leaves can be seen in belts, collars and clips.
Pearls- The pearl trend can be seen as accents in a headpiece, jewelry, bags, or even hair clips.
Halo Headpiece- The halo has become a popular choice for bridal headwear. The halo has very romantic and angelic feel.
https://aleanasbridal.com/wp-content/uploads/2019/07/Rebecca-Ingram-Wedding-Dress-Darlene-7RS300-Main.jpg
1024
768
Svetlana Zakharina
https://aleanasbridal.com/wp-content/uploads/2020/04/logo-300x138.png
Svetlana Zakharina
2014-02-12 16:31:10
2020-08-01 14:52:22
Spring/Summer 2014 Bridal Fashion Trend (Part 2)