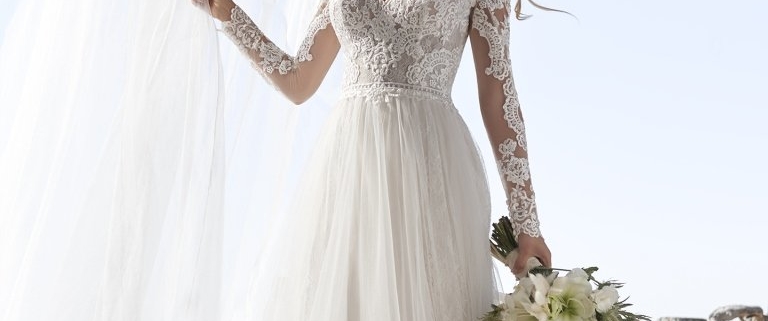 This article brought to you by Aleana's Bridal store, Bergen County, NJ
What's new for the upcoming season?
Silhouettes:
Regarding the Silhouettes, trends in the bridal industry have taken a more elegant and minimalistic turn. On the runway, minimal wedding gowns with elegant lines that accentuate the figure are becoming quite popular in the Spring 2014 season. These dresses are made of white silk satin and have no embellishments. The cut of the garment is the focus of the dress.
Another trend regarding silhouettes is the column shape. Many designer gowns on the runway for the spring/ summer 2014 season can be seen with this type of silhouette that emphasizes an hourglass figure. With long, form-fitting dresses, there is usually an emphasis on the waist. Lines bellow the knee have been seen to be tapered or have a gentle flare. A-line trains add drama to this sleek silhouette.
Vintage inspired gowns continue to gain popularity. Many dresses on the runway for this upcoming season were designed with lace and vintage inspired feel. Regarding the silhouette of this gown, the vintage trend favors a ladylike silhouette that has found to reference the silhouettes popular in the 1950s. Many of these gowns designed with illusion necklines and deep-v necklines.
The last major silhouette trending in spring/summer 2014 is an ultra-feminine hourglass silhouette. The key to this look is structured bodices, an emphasis on cinched waists, and full bell-shaped skirts. Some of these gowns can be found with skirt overlays or asymmetrical peplums. This look mimics Christian Dior's 1947 "New Look".
Length:
For spring/ summer 2014, lengths of the gown seem to be getting increasingly shorter. One popular look seen on the runway is the cocktail length wedding gown. This type of dress is a more casual alternative to the long, elegant wedding gown. Hemlines of this type of gown can range from above the knee to just below the knee. The styles for this cocktail length gown vary from a-line, fit-and-flare, and straight.
High-low hemlines are becoming increasingly popular in the ready-to-wear gown industry. For spring/summer 214, the high-low hemline was seen trending on the runway in Milan.
The mermaid tail has also been trending on the runway. The mermaid tails are flare out at the knee. These type of style balances out the tight body-con silhouette to create a voluminous bottom.
 Trains:
In the spring season, we can see variations of the elegant and long train. This variation is called a cascading train. Popular are the waterfall cascades and classical Grecian draping. This kind of train creates a "pooling" effect rather than a sweeping train.
Continue to read Part 2
https://aleanasbridal.com/wp-content/uploads/2019/07/Rebecca-Ingram-Iris-20RS656-PROMO2-CH-e1601148032248.jpg
744
768
Svetlana Zakharina
https://aleanasbridal.com/wp-content/uploads/2020/04/logo-300x138.png
Svetlana Zakharina
2014-02-12 16:33:29
2020-08-01 14:51:50
Spring/Summer 2014 Bridal Fashion Trend (Part 1)