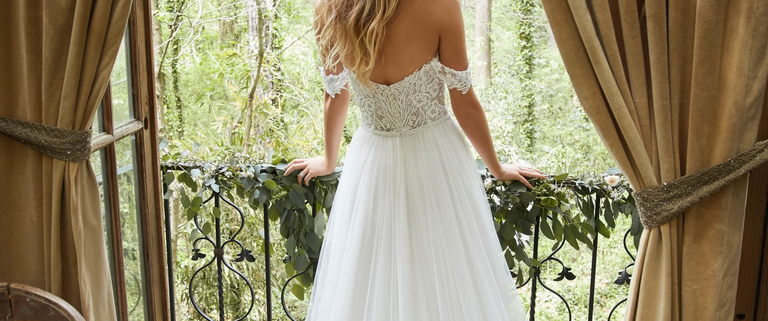 This article brought to you by Aleana's Bridal Shop NJ
By Jaclyn Ianetti
This is more so about being prepared for your bridal fittings and what to bring along with you…the tangible and the intangible…so your overall experience on the hunt for a dress is less stressful.
What to bring to bridal fittings:
*First of, you should wear something comfortable that you can easily slip in to and out of, so avoid outfits with obstinate details, buttons, or zips.   A stretchy maxi dress and ballet flats is an appropriate go-to outfit to wear to fittings.  No hoodies/sweatshirts…you'll be hot pulling those on and off.  A light jacket with an easy zipper to swing off you is more like it.
*Wearing modest underwear is a must…seam free with a strapless bra.   Some of the dresses will look best with a strapless or no bra.  Think about what type of underwear you will be wearing under your dress the day of your wedding…maybe bringing a nude color or something similarly simple to really get the feel of the entire look as you explore your options.
*Your very own bridal glass slipper….SHOES!  Of course, it doesn't have to be a "glass" slipper, but you're going to want a new, special pair for the very special occasion.  Bridal shops will have shoes you can try on with the dresses just to get the feel for it, but if you don't want to share shoes with the other brides roaming the aisles in the stores then bring your own pair along with you…to set the tone for your unique stroll down your very own aisle once the big day arrives.
– Color doesn't necessarily matter for fittings, as most bridal stores will provide you with a basic white satin shoe if you do need to get an idea of how your dress will look with an appropriate heel.  You can always go without a heel, of course…it's completely up to you and what your style is.  Once you decide on your dress, then you can go about thinking what shoe…style, color, and height…will best fit.
Continue with Part 2,  Part 3, and Part 4
https://aleanasbridal.com/wp-content/uploads/2019/07/nia3-e1596298729797.jpg
668
768
Svetlana Zakharina
https://aleanasbridal.com/wp-content/uploads/2020/04/logo-300x138.png
Svetlana Zakharina
2014-04-03 16:25:05
2020-08-01 14:48:03
How to shop for a wedding dress (Part 1)