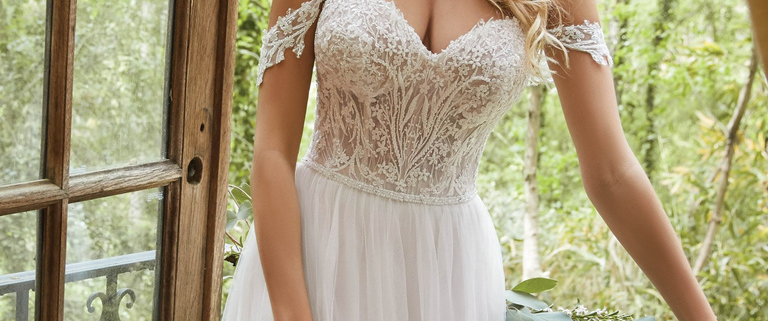 The day has finally come. You're finally going to your first bridal gown fitting! But, are you bringing the right bra?
Choosing the right bra to go with the perfect dress can be tricky. You want support and comfort. You also want to make sure the dress looks perfect on you. Don't worry though! We're here to help you out on your best day ever with a few tips and tricks to help you decide what's best.
No bra – You may not need a bra at all for your special day. It all depends on your body and how you feel personally. Many wedding dresses are very structured and offer a lot of support all on their own. Some might come with a support system built right in. For others, you could work with your salon and seamstress to add one to your dress.
Backless, stick-on bra – These can be tricky, but if you're sporting a backless dress for your big day or have fabric that's on the thinner side, this works wonders. It offers coverage and sticks right to your skin, so you decide where it's most comfortable for you.
Bustier – If you're looking to add a little more curve, this might be the one for you. This works especially well with a ball gown. You want the top part of your gown to show off your shape on your Cinderella day. A bustier or corset will really accentuate the waist and support your bust to keep you looking your absolute best.
Bodysuit – If you've fallen in love with a particularly low-cut dress and sticky tape just won't work for you, a bodysuit might be an option. These offer a little bit more support and shape to keep everything in place. You might also find a backless bodysuit, perfect for a backless gown.
When it comes down to it, it's all about what you feel the most comfortable in. Don't wear a corset or bustier just because you feel you have to. Make sure you feel comfortable and beautiful on your wedding day. Choose what works best for you. Your bridal consultant and seamstress at your salon will be there for you to help you select the best option. Share your concerns with them and you'll be sure to work it out.
Fashion Forms and Dominique can be found at Aleana's Bridal.
https://aleanasbridal.com/wp-content/uploads/2020/05/Nia.jpg
1024
768
Svetlana Zakharina
https://aleanasbridal.com/wp-content/uploads/2020/04/logo-300x138.png
Svetlana Zakharina
2017-10-07 18:33:24
2020-08-01 13:22:39
What to Wear Under the Wedding Dress