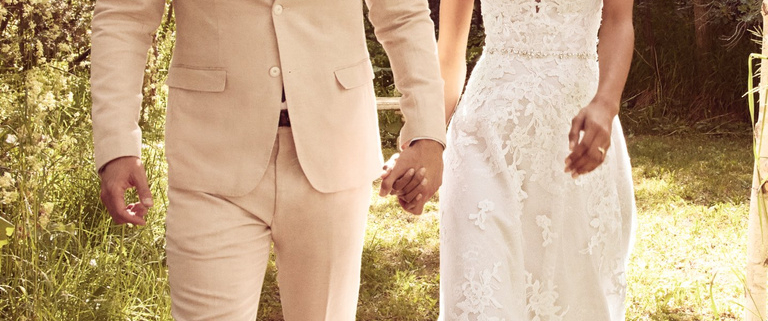 Your color scheme for the wedding has the power to set the vibe! The colors you choose can seriously affect the overall tone and mood of your wedding, so think about what kind of celebration you want! Always remember to pick up your favorite shade, and the type of style you will use on your wedding invitations. This will give your family and friends a clue about your wedding style (and what they should wear). Here are a few color combinations you could go for:
1. Cream & Gold 
Consider a cream and gold wedding. These wedding colors could work for any time of the year. This romantic décor can work for a stunning indoor venue or a relaxed outdoor atmosphere. Its versatility allows it to be a bit rustic, and perfectly refined. Also, gold will always complement the neutral color scheme and isn't forced to fight for attention aside in bold colors.
2. Brown and Arctic Blue 
Blue for your wedding color will create a relaxing and peaceful mood for your wedding in which everyone will feel contented and happy. Navy blue can look great with ivory, champagne, and white. Adding brown can make it a gorgeous combo. For this theme, go with white tulips, lilies and maybe hydrangea in blue or white. Adding a handful of peacock feathers will definitely look charming, providing a splash of color to kick off a fabulous day.
3. Rustic Rainbow 
A colorful wedding is a beautiful wedding. Choosing all the colors of a rainbow to include in your wedding is bold, attention-grabbing and a bit overwhelming. The most important thing to remember when having a colorful wedding is to make sure every color is represented equally. If your wedding is in the spring, choose pastels. If your wedding is in the summer, choose bright and vibrant colors. If your wedding is in the fall, choose dulled shades that are deeper. If your wedding is in the winter, choose cool palettes for all of your colors.
4. Cherry Red
Red is probably the boldest color you can choose for your wedding. It creates a warm and stimulating mood at your wedding with high energy. The attention-seeking color will have all eyes on a bride who wears a red wedding gown, on a reception venue decorated with red flowers and bridesmaids channeling vibrant red dresses. There are many shades of red to choose from, such as coral, burgundy, ruby, crimson, vermilion or maroon, and endless types of flowers like roses, tulips, poppies, peonies, and dahlias, just to name a few. This bold color (perfect for the brave & romantic ones) can tint every element of your wedding, from heart-shaped table decorations to a spectacular red velvet wedding cake and red rose bouquets for you and your bridesmaids.
5. Purple & Green
Purple is most often associated with royalty. This is because Roman Emperors were often seen wearing purple. Adding a beautiful splash of purple and green to your wedding will create a calming and restful mood. Use lilacs, known for their lovely fragrance which is part of why many brides choose these for their purple pop. While lilacs can also be white, pink, and red, purple lilacs symbolize purity and first love.
6. Turquoise & Lime Green
This bold and bright color combo is pretty chameleonic, and here is why. Depending on the accessories and decorations you choose to display in this sweet yet euphoric mix, your big day can acquire different touches: for a vintage wedding choose powder green, fainted turquoise, and all things antique, for an exotic feel choose a stand-out aqua shade and lots of marine elements, while for a garden-party vibe scatter endless quantities of green hydrangea everywhere and wrap turquoise ribbons around everything. Turquoise will create a refreshing, friendly and happy mood at your wedding.
7.  Kelly Green
There are dozens of ways that green can be a beautiful color for a wedding. Whether as an accent or a dominant shade, this gentle color evokes a sense of peace and nature perfect for a romantic celebration. There are many ways to incorporate more green into the floral arrangements, such as: choosing all-green arrangements with green blooms using more ivy, ferns, and other greenery in decorations or wrapping bouquets in green ribbon. The wedding cake is undoubtedly the star of the wedding menu, and adding green accents can make this scrumptious dessert a treat for the eyes as well as the taste buds. Consider green options such as: decorating the cake with greenery rather than flowers or adding faux emeralds or other green jewels to the cake.
8. White & Blue
A sea-and-sky color theme helps create a crisp, modern wedding. Get inspired by a monochromatic palette of chic sea-glass blues. Print and texture mixing is encouraged, along with a signature sip and dessert bar that perpetuates the color scheme.
This article brought to you by Aleana's Bridal, Paramus, NJ
https://aleanasbridal.com/wp-content/uploads/2019/07/COurtney.jpg
1024
768
Svetlana Zakharina
https://aleanasbridal.com/wp-content/uploads/2020/04/logo-300x138.png
Svetlana Zakharina
2016-08-04 15:48:05
2020-08-01 13:57:55
8 Ways to Color your Wedding Venue