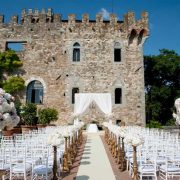 Imagine the day you've been dreaming of since you were a little girl: your wedding day. You've been dreaming of your fairytale wedding for as long as you can remember. You've always wanted to be a princess, and where does every princess get married? A castle, of course. There are so many elegant castles to choose from around the world for your wedding day to make you feel like a true princess. There are even many in the U.S., which means you don't have to travel across the pond!
Here are some amazing castle venues in the U.S. from Martha Stewart Weddings . If none of these are for you, check out Hitched.co.uk for some venues in the UK.
A castle wedding venue means there are so many different options for your dress. Any silhouette and fabric that works for you can be yours. Unless you choose to get married with the castle as your backdrop, you won't need to worry about sand, dirt, or water getting on your dress, because you'll be indoors. So, if you really want to feel like the princess of the castle, here are some suggestions to get you started:
A silk or satin ball gown is the perfect statement for your fairytale wedding. Satin gowns are elegant and regal to make you look and feel like a true princess.
If satin really isn't your style and you're looking for something a little more lightweight, look for something with tulle or organza. You can still get that princess look without all of the added weight.
These styles are perfect if you want to channel Princess Kate on your fairytale wedding day. The sleeves are a bit more conservative, but add a touch of elegance you might not find in a sleeveless gown.
If a ball gown really isn't your style, there are plenty of other styles that will still bring out your inner princess. From A-line to fit and flare to two-in-ones, the options are endless.
These styles, and so much more, are available at Aleana's Bridal!
https://aleanasbridal.com/wp-content/uploads/2017/09/florence-wedding-at-vincigliata-castle-180.jpg
566
850
Svetlana Zakharina
https://aleanasbridal.com/wp-content/uploads/2016/03/aleanas-bridal-1.png
Svetlana Zakharina
2017-09-30 19:11:13
2017-09-30 20:19:12
The Perfect Castle Wedding Gowns
Be Creative and have some Fun: Customized Bridesmaid Dresses
Is it a hard choice to decide what to pick off the rack? Then make things easier for yourself. The good news is you can now create and personalize bridesmaid dresses of your choice! Add your style, color and size on Dessy, an online store that offers a wide range of premium dresses. You dream and design it, let us know or come to us and we will make it come true. Whether you have a design in mind or are looking for styling advice we will work together to create your unique made to measure gown.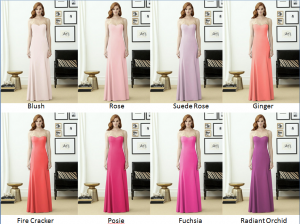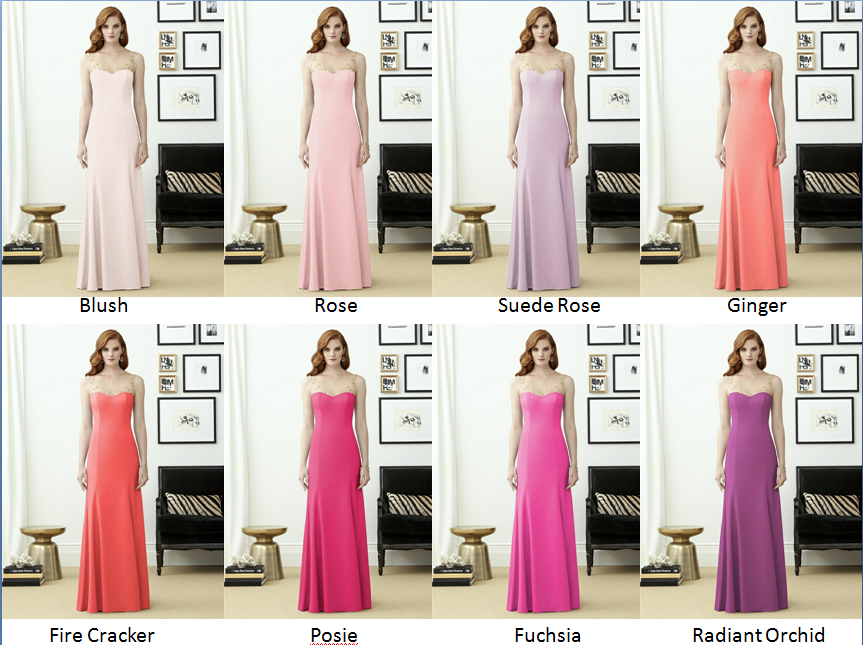 Collection Style: 2964
Punch up a rosy color palette! Pink does not always have to be girly. Since pink is soft and airy, it's not much of a stretch from white and still works. So, forget matchy-matchy and outfit your friends in these gorgeous crepe dresses that are available in a range of complementary colors. Trust me, they are utterly ladylike and give off an air of whimsy.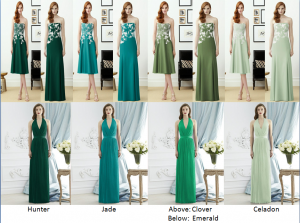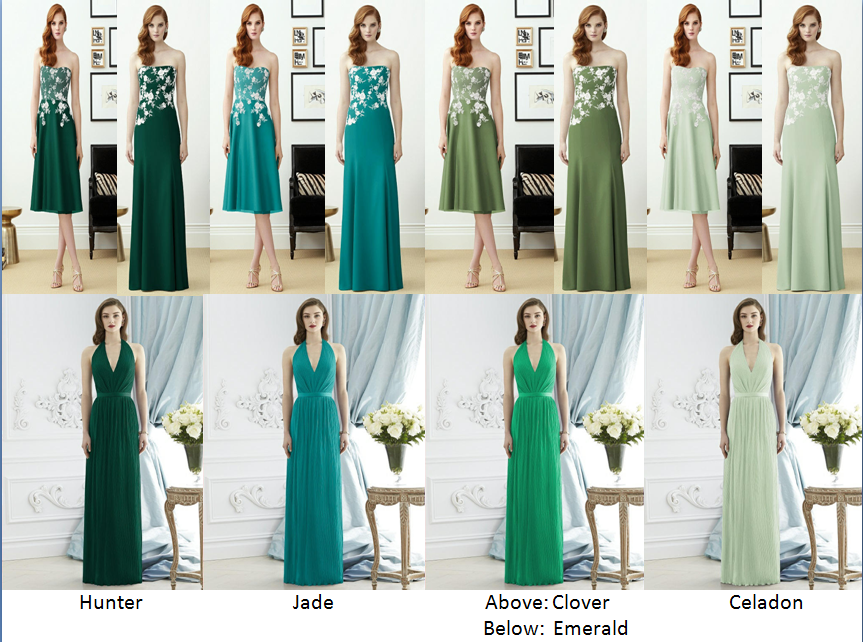 Green is an ideal hue to wear from day to evening events. The best thing about the green trend is that it can flatter literally everyone, regardless of skin tone, hair and eye color, and one's personal style. All green shades can be ideally styled with earth shade colors, including brown, sandy, grey, etc. For example, style it with nude pumps or skinny sandals with no accessories and jewelries on, let everyone's attention on your dress. But obviously not from the bride's. Go for the short or full length strapless soft tulle dress w/ asymmetrical fleur embroidery applique detail at bodice and hip, or the full length pleated lux chiffon halter dress.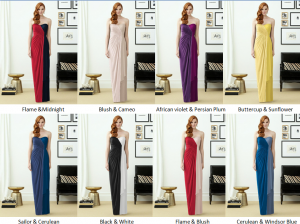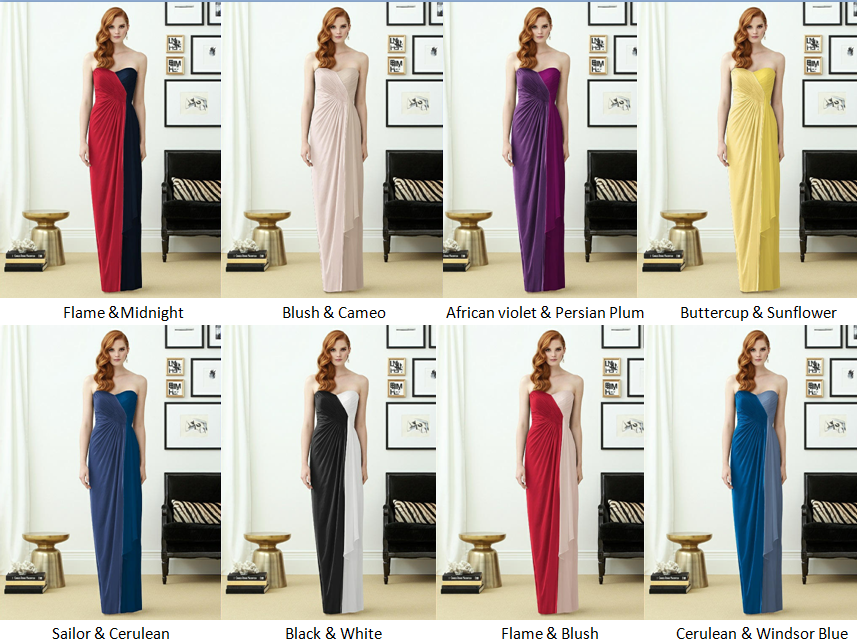 Collection Style: 2956
More of the playful type? Build a mix and match bridesmaid dress of your own. Magenta! Yellow! Blue! They can do wonders to liven up a look. Choose the hues that work with each other and your dress will look smashing! Every color has a complimentary color. Black and white, for instance, are complimentary colors. That's why they look so great together. You know, "opposites attract". That whole thing. Customize your own full length strapless lux chiffon dress w/ sweetheart neckline draped bodice and skirt NOWWWW!
This article brought to you by Aleana's Bridal, Paramus, New Jersey.
https://aleanasbridal.com/wp-content/uploads/2016/08/8588-PNCH-front-big.jpg
275
525
Svetlana Zakharina
https://aleanasbridal.com/wp-content/uploads/2016/03/aleanas-bridal-1.png
Svetlana Zakharina
2016-08-18 15:46:24
2016-08-18 15:49:57
Bridesmaid Dresses
Are you both total chocoholics?  Then why are you looking at vanilla cakes?  Just because white cakes are the most traditional wedding cake doesn't mean you need to serve them at your wedding.
Here are a few ways to incorporate chocolate in your wedding.
1. Chocolate candy table –
It might not be a good idea for a venue that gets some serious sunshine, but a hint of chocolate in your decorations might mean a few more or your guests stop to smell the roses. Think about having a candy bar filled with a variety of treats that can be made from chocolate. Think sweet starfish and seashells for a beach-side celebration (just be sure not to set a display of chocolate favors out in the sun), or a chic mix of white-and-dark chocolate treats for an indoor wedding. There are uncountable things to add to your chocolate table such as milk chocolate covered malt balls, chocolate dipped pretzels, chocolate covered almond toffee bites and milk chocolate covered caramel popcorn's just to name a few. These could be put in cute little candy jars next to scrumptious hot chocolate drinks for the younger ones to relish – best for winter weddings. For the adults, these chocolate drinks can come with a twist. Such as combining chocolate ice cream with alcohol and turning it into a shake.
 Picture from – Snippet & Ink
                                                                              Picture by – Marla (PnPFlowersInc)
2. Chocolate cupcakes –
A big wedding cake isn't a must. Find a baker that specializes in creating awesome cupcake inspired displays for your wedding. Chocolate wedding cupcakes can be just as chic and glamorous. Whip up a batch of chocolate infused offerings and have them as your centerpiece. You could also go for ooey gooey creations; with center filled caramel or peanut butter. These chocolate confections are going to be so rich and decadent.
Picture from – The Chocolate Connoisseur 
3. Chocolate fountain –
If your wedding reception is just for a small group only, you should have the personal chocolate fountain. It isn't much, but it would still be an additional fun for the wedding reception. For any cocoa-crazy bride this is an absolute necessity, and is sure to get your friends and family talking. You can skewer dried and fresh fruits to give it a surprising appearance and a more exciting effect. Strawberries with prunes and grapes are also often used too.
Sliced cakes or crackers would also a fine addition. If you mixed the colors well then they will add more to the decoration and create and all-round colorful effect. Marshmallows are a plus. It is the next best thing paired to chocolates. Other dipping's may include pretzels, cookies and bread pieces.
There are several flavors for chocolate fountains to choose from, in case you want to add extra taste to your chocolates. If you expect that most of your guests are diet conscious, you can also request to have an additive to maintain the sweetness but lower the calories or sugar content. This way, your guests can still enjoy the chocolate fountain in a healthy way.
Photo by – The Dating Divas
This article brought to you by Aleanas Bridal, Paramus New Jersey.
https://aleanasbridal.com/wp-content/uploads/2016/08/443-500.jpg
500
500
Svetlana Zakharina
https://aleanasbridal.com/wp-content/uploads/2016/03/aleanas-bridal-1.png
Svetlana Zakharina
2016-08-18 15:30:56
2016-08-18 15:32:12
Chocoholic Wedding