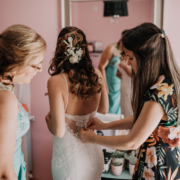 By Jaclyn Ianetti for Aleana's Bridal, Paramus, NJ
"Honor, riches, marriage-blessing
Long continuance, and increasing,
Hourly joys be still upon you!"
– William Shakespeare
You found the man of your dreams…the dress of your dreams…had the wedding of your dreams. Now what about the future of your dreams?
Before you start dreaming up future plans, first give out gratitude to the universe for bringing you the things that bring you love & happiness, right here in the "here and now." There is a measurable benefit to counting your blessings and looking on the bright side. Doing this will be sure to bring you more of your wishes, hopes and dreams to be realized soon in the future! Studies have been done to prove that people are genuinely happier when showing gratitude. So remember that a happy energy and positive outlook attracts positive outcomes!
Wedding day planning has brought you much stress, I'm sure, but give thanks for how wonderful it all turned out to be. "Thank you power" can actually undo the effects of stress that has took its' toll on you. And aren't you thankful for all the beauty the wedding day and the days that led up to it, like the first time you ever met your husband, has brought into your life?
Write down the moments that are good in your life and the ones you have recently experienced leading up to your wedding so that you can go back and reflect on them. This can be your little treasure book that holds your happiness…something that you can stare dreamily at each time you visit. It's a golden repository of all the good stuff from your past that gives you the ability to recognize the small, everyday things that make you happy. Happiness and "thank you power" aren't about material objects, but rather the moments in your life that have made you feel that life is good.
Whispers of your Heart
Give thanks… to God, your angels, and the universe…for coming together to bring you love in the form of human love. Whether you endured struggles and hardships along the way, a romantic relationship is what satisfies your heart. Your heart received the affection of another person, and your heart is now complete.
Give thanks…for Free will. Free will is the key ingredient to true love. True love cannot exist without a choice: If you were forced to love a person, then love would disappear, and you would be under manipulation. Your free will matched up perfectly with somebody else's free will. You & your husband have a will that crossed paths and shared its' desires freely, locking at a center point of reciprocating love.
Give thanks…for an intimate relationship that developed because of your choice and free will, in spite of all the other opportunities that you could have chosen that would have misled you down the wrong path to love.
Give thanks…for a passionate romance… Your channels are unblocked to allow love to flow freely in to enhance your life. Your earthly relationship with your husband is the avenue of expressing and receiving love
Give thanks…for the life of promise you are now living. A promise of unconditional love and acceptance that you and your spouse share together, which is the ultimate treasure above all other things in life.
"Grace and remembrance be to you both."
– William Shakespeare
https://aleanasbridal.com/wp-content/uploads/2020/06/High-Narissa_7SW968_5.jpg
1669
2500
Svetlana Zakharina
https://aleanasbridal.com/wp-content/uploads/2020/04/logo-300x138.png
Svetlana Zakharina
2020-05-14 15:43:37
2020-08-01 12:00:42
A Bride's Wish List by Aleana's Bridal Shop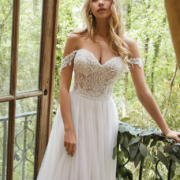 Personality: Don't mess with this down to earth bull!  Reliable, steadfast, and yes, stubborn describes the Taurus to a T.  You're loyal, kind, and level-headed during conflicts- but once you're pushed too far, the raging bull is revealed!  That said, you are not the woman to be messed with, taking advantage of, etc.  You are no fool.  Taurus woman are practical, graceful earth signs whose reassuring presence makes others feel automatically at ease when they are around you.  Your humble abode is dualistic: humble and comfortable with expensive tastes.  Your fridge is full of fancy, comfort foods and your closets bursting with couture.  A wise spender and very successful, Taurus know how to keep their feet on the ground.  Your earthy vibes pull at the heartstrings of others…overwhelming them with gratitude just to be in your calming company.  You're the girl that everybody wants to hug…YOU invented cuddling!  Soothing in nature, Taurus are a guaranteed comfort zone.
Style:  Graceful Goddess…Earthy Edge…a timeless classic and simple elegance brings out your ethereal beauty.  Less is more for the practical Taurus woman.  You're traditional with a high-end twist.  You're never seen without your trademark pearl necklace and your argyle cardigan.  You stick to the basics and earth tones, but have a knack for mixing understated pieces with the embellished.  The secret to your style success?: As a graceful earth sign, you have a way of making polished pieces that would look stuffy on anyone else, such as a tie-neck blouse, seem fresh and delightful on you.  You've got a fierce edge to stage your fearless side every now and then.
Your Dream Dress/ Wedding Dress Horoscope:
Taurus is tactile and sensual, so fabrics pleasing to touch and gowns that are comfortable are among the favorite picks for a Taurean bride.  You'll feel amazing only in a bridal gown spun from the most luxurious materials – silk chiffon and organza.  An off-the-shoulder neckline and string of pearls speaks to your traditional sensibilities.  Streamlined gowns, with hints of beige, browns or tans are always accepted.  A Taurus girl should always play up her neck with a baring cut, as that is her best feature, along with the throat, collarbone, and shoulders.  Any Taurean will go wild for a gorgeous gown made of satin with intricate detailing under the bust and down the back to the train, which makes it an eloquent, unforgettable dress.  A bustle in the train calls for the immediate attention you crave in a wedding dress.  Wear your hair in a loose chignon with tresses framing your face.  When it's all pulled together, you'll look like you just stepped off the set of a classic black-and-white film.
Style icon who shares your sign:  Audrey Hepburn
Taurus Seductresses: Penélope Cruz, Jessica Alba, Uma Thurman, Cate Blanchett
This article is brought to you by Aleana's Bridal Shop located in the town of Paramus, NJ – Bergen County.
https://aleanasbridal.com/wp-content/uploads/2020/05/Nia.jpg
1024
768
Svetlana Zakharina
https://aleanasbridal.com/wp-content/uploads/2020/04/logo-300x138.png
Svetlana Zakharina
2020-05-14 15:40:57
2020-08-01 10:54:27
Taurus (April 21 – May 21) The Comfort Creature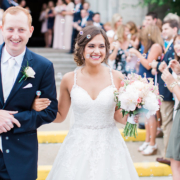 Planning a wedding can be a lot of work. Depending on what you and your fiancé are looking for, there can be a lot to plan and decide on. From locations to venues to food and budget, it can get a bit stressful. Luckily, there are a lot of websites out there to ease your pain. These sites help you to plan and keep things organized. They make it easy to find venues and keep track of your budget. They also help to keep in contact with all your guests. You can send out RSVPs, keep track of food preferences, and even add your registry. Some include apps and the ability for your guests to add photos after the wedding. There are many wedding websites to choose from, some free, some with monthly payments, and some with upgrades available for a small cost.  
The Knot is one of the most popular wedding websites. It offers a lot at no cost to you unless you want to upgrade.  
Customize your website for free

 

Upgrade to a custom domain for an added cost

 

Add guests and collect contact information

 

Add a registry

 

Keep track of gifts received and "thank you" cards sent out

 

Share your love story

 

Countdown to the wedding date

 

Collect RSVPs

 

Use budget tool

 

Wedding planning checklist

 

Venue search

 
Wedding Wire is another free website. The great part about Wedding Wire is the ability to search vendor's pages. You can read reviews right on the site, and even book appointments if possible.  It's your one-stop-shop for wedding planning. 
Customize your own site with over 400 designs

 

Mobile and tablet friendly 

 

WedSocial app where friends and family can share photos
Widgets to help book travel 

 

Easy access to RSVPs and registry

 

Social guestbook

 

Vendor search and reviews

 

Appointment booking

 
Joy is almost like a Facebook event page, but way better. You can add your trusted friends and event planner as admins, so you don't have to do all of the work. The site is free and fairly similar to The Knot and Wedding Wire, with a few select differences. 
App for iOS and Android

 

Multiple admins

 

Connect with Facebook and Instagram to control sharing

 

Send guests email notifications

 

Introduce yourselves and your wedding party

 

Allow guests to connect with each other

 

Share travel details

 
These are just a select few of some great wedding websites to keep your planning organized. There are many others out there to choose from. Some require monthly or yearly fees, while others, like these, are free. Choose what works best for you. Either way, these will be sure to make your wedding planning a breeze.
Be sure to find Aleana's Bridal on Wedding Wire!
https://aleanasbridal.com/wp-content/uploads/2019/07/allison.jpg
682
1024
Svetlana Zakharina
https://aleanasbridal.com/wp-content/uploads/2020/04/logo-300x138.png
Svetlana Zakharina
2019-11-14 17:35:42
2020-08-01 11:56:35
Wedding Planning Made Easy