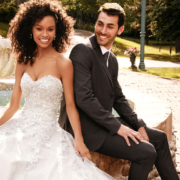 When you want your wedding to seem like a star-studded event, without the stars (most likely), then dressing like one and selecting a venue like one might be the next best thing. Celebrities have a knack for finding the most beautiful and elegant venues you could imagine. Of course, it helps that they have quite the budget, but that doesn't mean you should let that get you down. Where there's a will, there's a way, and you shouldn't let price or location stop you from having your dream wedding. 
If The Notebook is your thing (and how could it not be?), then this is the venue for your wedding day. This is Allie's summer house in the classic romance movie and the wedding venue of the one and only Blake Lively and Ryan Reynolds. Yeah, it doesn't really get much better than that. The plantation is simply beautiful, and the driveway is lined with oaks and Spanish moss, which make for some stunning photos. 
Jessica Simpson and husband Eric Johnson were married on this not so subtle ranch in California. With what seems like a never-ending garden, this ranch is what outdoor wedding dreams are made of. Just look at those flowers and the greenery stretching all the way to the mountains.  
A wedding in Italy is nothing short of a dream come true. Jessica Biel and Justin Timberlake got to live out every girl's dream at the Borgo Egnazia Resort in Italy.
Planning your dream wedding is exciting and you deserve a day to feel like a celebrity! Check out Martha Stewart Weddings for more fabulous celebrity venues! 
This article brought to you by Aleana's Bridal, Paramus, NJ.
https://aleanasbridal.com/wp-content/uploads/2019/07/honor.jpg
576
1024
Svetlana Zakharina
https://aleanasbridal.com/wp-content/uploads/2020/04/logo-300x138.png
Svetlana Zakharina
2019-01-10 12:53:48
2020-08-01 12:05:43
Celebrity Wedding Venues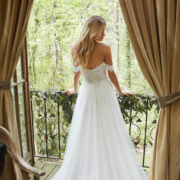 So you and the love of your life are going to tie the knot, and neither of you wants to wait over a year to make it official, or maybe you want to keep it simple and budget-friendly because you're in the process of buying your first home.
Or perhaps you're looking for a reception dress and have a smaller budget for this purchase.
Whatever the reason for needing to find a gown in a hurry or keep your finances in check, buying a brand-new designer sample gown might just be the ticket to wearing your dream dress, no matter what your circumstances.
There are a variety of ways to look for sample wedding gowns. Many online shops offer quality designer bridal gowns for sale at discounted prices, but because these dresses have been discontinued, there is almost no way to try them on locally before buying online, let alone check over the dress for wear and tear.
At Aleana's Bridal, we offer sample wedding gowns at 50% off (or more). From the moment we buy a sample for our shop, our gowns are always kept in plastic garment bags to keep them clean and in excellent condition. We have sample gowns available from Pronovias, Rosa Clara, David Tutera, Allure, Jasmine Couture and more.
Maybe you're looking for something boho chic for your rustic wedding, or perhaps you are thinking on a grander scale — a fairy tale ball gown for your big day. We have a large selection of styles, from sleek sheaths and fit 'n flares to full A-lines and ballgowns.
So all you New York and New Jersey brides out there searching for your perfect wedding dress at a fabulous price, you can find your beautiful bridal gown in northern New Jersey at Aleana's Bridal in Paramus, the heart of Bergen County. Our Cash & Carry gowns means you can take home your dream dress the day you try it on, and no one will be the wiser that your top quality designer gown was bought at a bargain price.
https://aleanasbridal.com/wp-content/uploads/2019/07/nia3-e1596298729797.jpg
668
768
Svetlana Zakharina
https://aleanasbridal.com/wp-content/uploads/2020/04/logo-300x138.png
Svetlana Zakharina
2018-08-02 13:21:39
2020-08-01 12:19:36
When buying a sample wedding dress makes sense

Here are a few things you must keep in mind before you come to try on or search for your very first wedding dress at Aleana's Bridal.
Make an appointment: The wedding industry is a super busy one. Bridal salons are always completely booked for the day; especially weekends. For us to give you all our attention and time, call us well in advance to let us know when you would like to come in. You could also book an appointment online through our website. Your appointment will be confirmed after we've contacted you back.
Have an idea of what you would love to see and try on: Have an idea of what your wedding theme and venue would be like. That way you'll be well aware if you should be looking for a dress appropriate for a relaxed beach fete rather than one that would fit right in at a classic ballroom affair.
Do wear appropriate undergarments: Although we have bras and shoes that you can wear while trying on your gown, it's always best to bring a strapless bra and shoes (approximately the same as what you intend on wearing for your big day) with you.
Your budget: Be prepared to discuss your price budget with our sales person. This will allow her to bring you dresses that are in your price range.
Have an open mind: Most of the brides come in for something they are looking for in particular, but end up purchasing a different style that suits them more. The dress you never thought you would like may be the one that is exactly right for you.
Give enough time: If you want to spend more time trying on dresses and talking with one of our sales person, a weekday appointment would be ideal. Once you've selected the dress you said yes to, we will let you come in few days/weeks from that day for your alterations.
This article brought to you by Aleana's Bridal, Paramus, New Jersey
https://aleanasbridal.com/wp-content/uploads/2014/07/aleanas-bridal-dresses-slide03.png
350
960
Svetlana Zakharina
https://aleanasbridal.com/wp-content/uploads/2020/04/logo-300x138.png
Svetlana Zakharina
2018-03-21 17:39:55
2020-08-01 12:20:22
Your Very First Wedding Dress Shopping