Wedding cake toppers used to be simple: a little bride and groom to symbolize your marriage. Nowadays, cake toppers are much more personal. They can symbolize the bride and the groom with animals, silhouettes, fun characters, or just something the bride and groom both love.  
If you and your groom prefer to keep things simple, a monogram is a nice way to add a personalized touch to your cake.  
It's your best day ever, so why not celebrate that with a best day ever cake topper? It's simple, elegant, and says it all. 
For those that love to have fun, and share a love of a particular movie or show, why not put that on your cake? It will show off your personalities, without taking over the entire wedding. People will be snapping photos of your cake all night long. You'll also have a statement piece in your home for the rest of your lives to commemorate your wedding day.  
If animals are your thing, then top your cake with them! You can go cute, like these little birds and foxes, or fun and whimsical, like the fox and giraffe.  
On your wedding day, choose what matches you and your groom's personalities best. A simple cake topper may not stand out, but if you love it, then it's meant to be.  
https://aleanasbridal.com/wp-content/uploads/2017/12/Cake-topper.jpg
744
570
Svetlana Zakharina
https://aleanasbridal.com/wp-content/uploads/2016/03/aleanas-bridal-1.png
Svetlana Zakharina
2018-01-19 15:00:21
2018-01-19 15:00:21
Creative Cake Toppers
It may not be your first idea, but sometimes, a blush or pink colored wedding gown can really make you stand out. In a light blush, the color could almost pass for a vintage or ivory. A pink or blush underlay can also help make lace really stand out from the rest of your dress. The color also compliments skin tones better than a stark white or ivory. In order to convince you, here are some celebrities looking like fabulous, beautiful brides in pink dresses. 
Portia Di Rossi 
Portia's fun, blush, tulle skirt made her look like a princess on her wedding day. The blush skirt was a nice contrast to her cream halter top.  
If you're looking for something similar to Portia's Zac Posen gown, but not quite as bold, this Rebecca Ingram dress is perfect. It offers soft tulle and lace with a touch of blush that's not too pink. 
Reese Witherspoon 
Reese's Monique Lhullier gown was a soft pink, a-line gown. You could clearly see that the dress was pink, which worked perfectly on Reese, but may not be for everyone.  
A very pale blush makes the ivory lace more prominent on this Rebecca Ingram dress. If Reese's bold, blush dress is too much for you, this might be the way to go. 
Blake Lively 
We still don't have pictures of her full dress, so this will have to do. Blake's Marchesa wedding gown featured some soft, rose gold embroidery that stood out over the silk tulle. 
For a subtle take on the pink, try this Rebecca Ingram gown. It's an ivory lace gown over a soft blush. The blush is so soft no one will be able to tell you're straying from the traditional.  
Anne Hathaway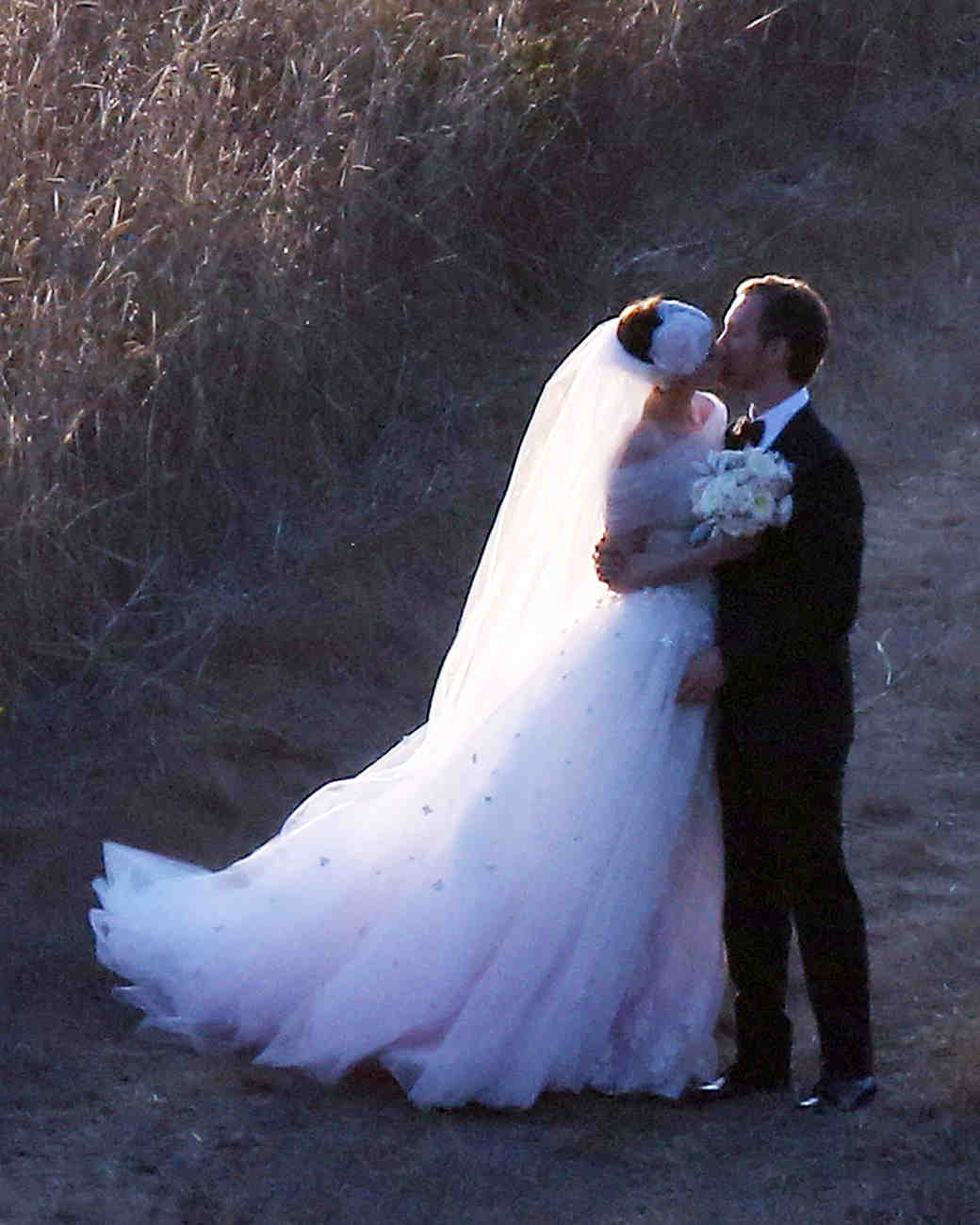 Anne Hathaway's custom Valentino gown featured an ombre pink effect. The tulle started off an almost white ivory and gradually turned a light pink. This baby pink Allure gown adds a soft touch of color that's not overwhelming, just like Anne's gown.  
Lydia Hearst 
Much like Anne's gown, Lydia's Christian Siriano gown featured an ombre effect, although hers was much bolder and brighter. This Allure gown will be sure to make a statement, just like Lydia's dress. It features organza ruffles in a baby pink on the bottom, with silver embellishments all over the bodice.  
These styles, and so much more, are available at Aleana's Bridal! 
https://aleanasbridal.com/wp-content/uploads/2017/12/saudi-arabia-princess-pink-wedding-dress.jpg
800
800
Svetlana Zakharina
https://aleanasbridal.com/wp-content/uploads/2016/03/aleanas-bridal-1.png
Svetlana Zakharina
2018-01-02 11:57:01
2018-01-02 11:57:01
Pink Wedding Dresses
With Fall quickly coming to an end, winter is upon us. We say goodbye to those autumn reds, oranges, yellows, and greens, and bring in the winter whites, cool blue, and deep reds. Winter is the perfect season to bring out holiday colors, go bright and sparkly, wear some elegant sleeves, and top it all off with a gorgeous fur coat. 
Winter Dresses 
Don't let the cold weather temperatures limit your dress choices. If strapless is your thing, go for it. But, if you want to switch things up a bit and feel like you're in the winter, try a dress with some long sleeves. Sleeves add a touch of elegance to a gown that sleeveless can't quite capture. You'll be sure to a be a princess on your wedding day. If you still want a strapless look, try an off the shoulder dress with sleeves to get the best of both worlds.  
Fur Coats 
A winter wedding is the perfect time to break out that fabulous fur. If you don't own any, Aleana's Bridal will rent one to you for your wedding day. It's a simple and classic way to keep you warm on a cold winter day, without covering up your dress or taking too much away from it.  
Bridesmaids 
If you don't want to be cold, then it stands to reason that your bridesmaids wouldn't want to be cold either, right? Although you're less likely to find long sleeve dresses for your girls, there are still options to keep them cozy. If you don't want them to freeze, gift them a warm accessory to keep things uniform. If not, don't be too picky about what they wear over their dresses. They just want to be warm!  
Shoes 
If it's cold out, you don't want your toes to freeze. Don't be afraid to wear some cozy boots or moccasins. As long as you get it hemmed accordingly, no one will even see the shoes beneath the dress. You can also wear them outside, and swap them out for another pair once you're inside.  
A winter wedding is your chance to do something out of the norm. Break out the furs and long sleeves. Wear cozy boots on your feet and get married in an igloo. Have fun and celebrate the holidays with your friends and family and celebrate your love.
https://aleanasbridal.com/wp-content/uploads/2017/12/winter-wedding-ideas-Bridal-Guide.jpg
300
300
Svetlana Zakharina
https://aleanasbridal.com/wp-content/uploads/2016/03/aleanas-bridal-1.png
Svetlana Zakharina
2017-12-13 16:19:09
2017-12-13 16:19:09
Walking in a Wedding Wonderland