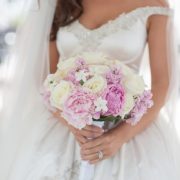 The flowers you choose for your bridal bouquet make quite the statement, especially up against your dress. Think about your theme, your venue, and the season. The season likely determines the types of flowers available for your bouquet. Every season brings new flowers, with gorgeous colors to create the most beautiful bouquet.  
Winter 
The Winter season brings us a lot of beautiful colors. Deep reds, bold purples, and dark blues can help you stand out. If you are looking for something a bit subtler, try out some icy hues. Light blues, pinks, and white can help you get more of a winter wonderland feel. If you are looking for a Christmas themed bouquet, go for some bold reds and green to get that jolly holiday feel.
Spring 
Spring is the season for flowers. Everything is growing back, trees are getting their leaves back, and everything is covered in beautiful, bright flowers. This is probably the best season for bouquets because nearly everything is in bloom. You'll have your pick of the crop when choosing your bouquet. You could go soft and pastel or bold and bright. The options are endless in the Spring.
Summer 
Summer is bright and fun and, much like Spring, you have your pick of almost any flower you could imagine. Pick your theme and colors and choose some fun, Summer florals to walk you down the aisle.  
Fall  
Even though Fall is typically the season when plants are starting to disappear, there are a lot of beautiful Fall florals that are perfect for your bouquet. And let's not forget those beautiful fall colors. Reds, oranges, and yellows will be sure to make your bouquet stand out. There are also a lot of flowers that come into bloom in the fall that will make a gorgeous bouquet for your walk down the aisle.  
https://aleanasbridal.com/wp-content/uploads/2017/11/AB-Stephanie.jpg
718
479
Svetlana Zakharina
https://aleanasbridal.com/wp-content/uploads/2016/03/aleanas-bridal-1.png
Svetlana Zakharina
2017-11-11 21:36:26
2017-11-11 21:36:26
Bouquets for Every Season
It's no secret that everybody loves Fall. From the fashion to the food, you could say that most everybody is a bit obsessed. It's such a cozy season, filled with warm scarves and sweaters and pumpkin spiced lattes (if that's your thing). Flannels, boots, and light jackets become a staple. The weather is near perfect most of the time, with it not being too hot or too cold. The leaves change to those beautiful colors we all know and love. The scenery is absolutely gorgeous and all natural. It's the perfect time to get married, or take your engagement photos, perhaps in preparation for a Fall wedding next year. So, break out the flannels and boots and get ready for some awesome Fall engagement photo shoots.  
It's Fall, its Halloween, it's Thanksgiving! So, break out the pumpkins and have some fun with your photos like this couple did for their save-the-dates. 
It doesn't get much more romantic or seasonal than sharing a kiss under the falling leaves. It captures what the season is all about. 
If you want to get really cozy, wrap up in a blanket like this couple did. The photo is so sweet, and the color changing leaves blurred in the background add to the Fall vibes of this photo. 
Get yourself a photographer that's willing to climb up into trees for you. It doesn't get much better than this photo, with the couple laying on the ground and the beautiful red leaves right over them. This is a photo you could truly only get in the midst of Fall. 
Don't forget to have some fun! Ever jump into a pile of leaves when you were a kid? If not, take that chance now. Take some leaves and throw them at your fiancé. Throw them up in the air. Act like a kid again. It will make for some beautiful photos and memories you won't soon forget. 
https://aleanasbridal.com/wp-content/uploads/2017/11/fall-photo.jpg
475
640
Svetlana Zakharina
https://aleanasbridal.com/wp-content/uploads/2016/03/aleanas-bridal-1.png
Svetlana Zakharina
2017-11-11 21:35:56
2017-11-11 21:35:56
Fall Engagement Shoots
When you think of glitter, you probably picture a little girl running around Disney World with glitter all over her hair and dress. Or maybe you think of kindergarten class, doing some craft and getting glitter EVERYWHERE. So, you probably wouldn't dream of incorporating glitter into your wedding plans, right? Well, think again. Glitter isn't just for kids, and there are a lot of sophisticated ways to add glitter to your wedding day without making it seem too childish.  
Bridesmaid Dresses 
We've been seeing a lot of this dress here at Aleana's Bridal, and there's no need to wonder why. It might seem a bit bold on the model here, but seeing the dress on one of your bridesmaids will instantly change your mind. We have yet to see this dress not look stunning on anyone that wears it. It looks especially stunning in rose gold, but if navy blue or silver is more your style, give it a shot. 
Mother-Of Gowns 
We're seeing more and more sexy and fabulous dresses for the mother-of. After all, your wedding day is only second to hers, so she should look amazing as well. Mother-of dresses tend to have a lot of detail, so it should be simple to find one with some sparkle to go with your glitter theme. And don't worry, while mom is sure to look stunning, you'll be the star of the show no matter what she wears, but there's no reason for her not to look fabulous, too! 
Cakes 
How about a glittery wedding cake? As one of the centerpieces of your wedding, adding a layer covered in glitter would look beautiful. It would add just the right touch of glitter without being too overwhelming. Add it in between layers, as a topper, or just add a small strip! If you're feeling really bold, make the whole thing glitter, because, hey, it is your wedding day.
Shoes 
What's hiding under that fabulous dress of yours? Glitter, of course! Wear a pair of your favorite, sparkly shoes on your wedding day for that much needed touch of glitz and glam. You can even wear these Kate Spade Keds if heels aren't quite your style. You'll still get that sparkle with an added touch of glam underneath your dress. 
There are so many other ways to incorporate glitter into your wedding without having it take over. Find what works for you and have fun! 
https://aleanasbridal.com/wp-content/uploads/2017/11/Southern-wedding-silver-glitter-linens.jpg
399
600
Svetlana Zakharina
https://aleanasbridal.com/wp-content/uploads/2016/03/aleanas-bridal-1.png
Svetlana Zakharina
2017-11-11 21:35:30
2017-11-11 21:35:30
Grown Up Glitter