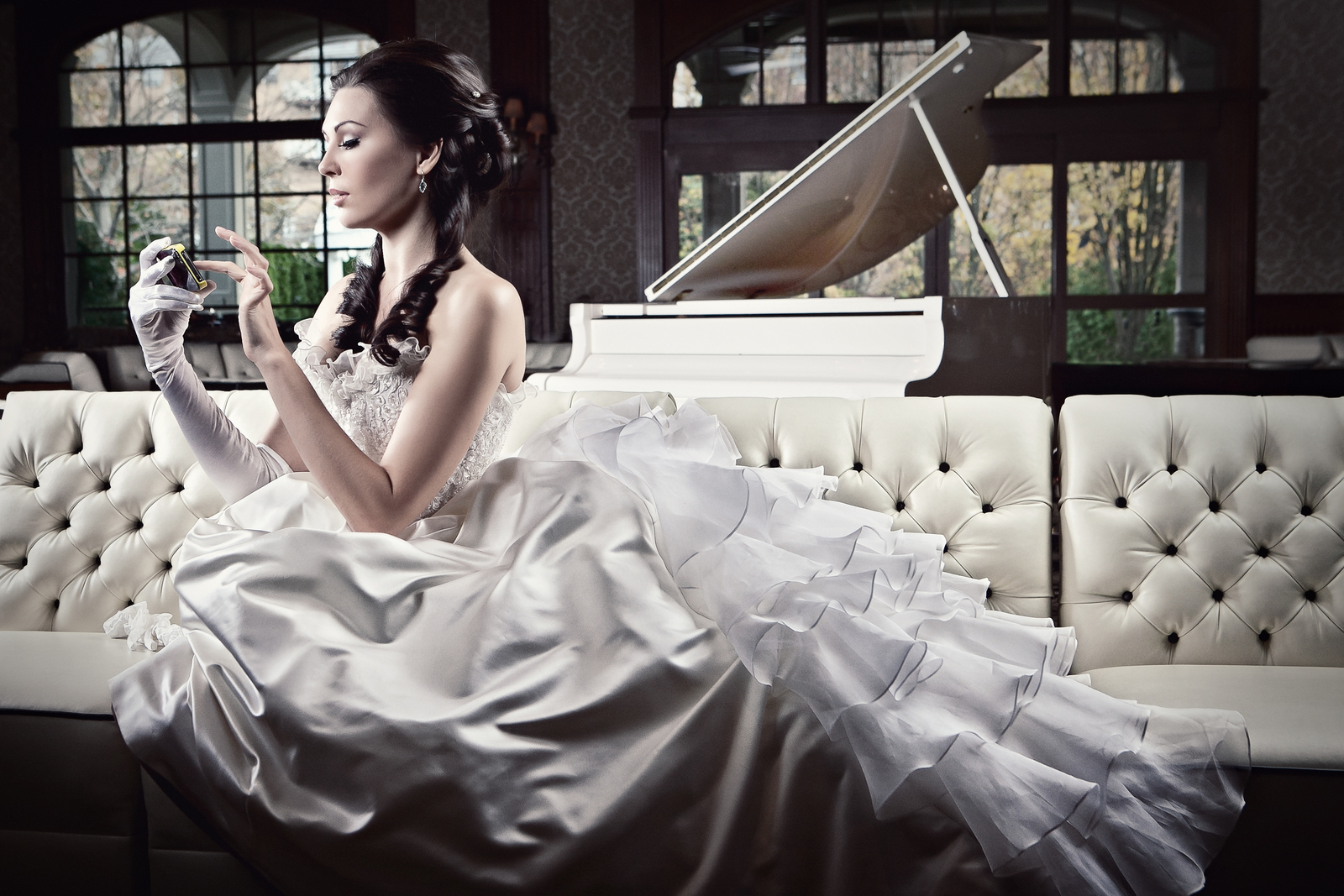 Personality:   All hail the queen!  You are the zodiac's lioness…channeling the fire element in your roar of strength, warmth and high energy.  As a Leo, you hate to be alone, which is a good thing because you have a magnetic personality.  You thrive on stage, are confident, ambitious and happy as long as you have a few doting admirers.  You're sensitive to criticism and won't easily forgive insults or perceived slights…but still do for the sake of keeping a general peace.  You impress others with your aplomb in uncomfortable circumstances and difficult situations, always maintaining the composure as a queen would rule her country in a distressful time.  Leos are far from facades and phony behaviors, always delineating their true colors.  You rather be hated for what you truly are than loved for who you're not and this assurance to your true self is a sign of true strength.  Loyal lion, you are one in a million…embracing a regal status of royalty illuminating through your generosity, quick wit, and overall composure.
Style: The Fancy Feline …Gold Goddess…Queen of the fashion jungle.
You are courageous enough to make an unforgettable fashion statement.  Bold colors, big patterns, a barely-there dress that somehow stays in place — if anyone can pull it off with assurance, it's you.  Gold, fur, and velvet lure you in, and animal prints of leopard and zebra fit your fashion tastes.  Shopping is a sport for you: like the lion that symbolizes your sign, there's nothing you love more than a good hunt then displaying the spoils with the perfect outfit.  The smart and refined looks you choose have a way of becoming iconic.  Your signature mane is often the first thing people notice, whether your hairdo is super-short or teased-out, you have the attitude and personality to pull it off.
Your Dream Dress/ Wedding Dress Horoscope:
Posh is in the stars for you…you want a wedding dress that is metaphorically lion-sized!  A fashion fiend for luxurious, expensive things, Leos do not mind indulging for anything, especially splurging on a wedding gown.  Elaborate sequins and bold and daring styles will catch the eye of the tiger.  Comfort is the last thing on your mind, for you Leo girls want to be flashy.  Look for materials fit for royalty – duchess satin, silk chiffon, organza – and smooth, elegant lines that meet dramatic details in a crystal brooch.  Just remember that the quality of the fabric and the manufacturing is just as important as the style.  What would be more fitting for a Leo better than a gown adorned with millions of sequins throughout the straps crossing over the chest, along with a center floral ornamentation, a billowing skirt that adds a chic feel making it a sophisticated bridal gown?  A style such as this one will wow all.  Don't tame that mane – the more natural and goddess-like the better.   Act as if an invisible crown is being worn by you…that is where your energy will radiate all its' royalty in your majestic gown.
Style icon who shares your sign: Jennifer Lopez
Leo seductresses: Madonna,HalleBerry, Kim Cattrall
This article is brought to you by Aleana's Bridal Shop located in the town of Paramus, NJ – Bergen County. We will help you design the dress of your dreams. Please schedule your first appointment at Aleana's Bridal Shop in Bergen County, NJ or call at 201-444-1500.
https://aleanasbridal.com/wp-content/uploads/2014/07/rsz_1sz_col1-067.jpg
1067
1600
Svetlana Zakharina
https://aleanasbridal.com/wp-content/uploads/2020/04/logo-300x138.png
Svetlana Zakharina
2020-08-01 10:53:22
2020-08-01 10:53:22
Leo (July 24– Aug 23) The Drama Queen – Aleana's Bridal Shop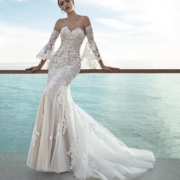 Personality:  You are more loyal than a golden retriever, and more nurturing than Mother Goose.  Cancer rules "women," so you are the zodiac's "soul sister."  You connect with all the women in your life in such a profound way that you are like "Mother Nature," but in tangible form, and are the best friend to all of your pals.  The Cancer sign is covered in contradictions.  You're willful and independent when it comes to your professional/public life, such as your career, and you lean heavily on family and friends when it comes to emotional support.  As a water sign, you're deeply in-tune with your feelings.  You're an intuitive old-soul with charming character.
Style: Old Fashioned Femininity…Vive la femme…Vintage Vixen.
Cancer is the sign of femininity, yet like a shy little Crab, you can be a bit self-conscious about your womanly body.  Your true beauty emerges when you veer toward body-conscious styles that flatter your curves, rather than hide or exaggerate them.  Old-fashioned glamour (think: 1940s era) looks fresh and timeless on you.  Cancers are one of the girliest girls around and love anything lace.  You love to dress up and be appreciated for your effort.  Cancer women don't fret over uncomfortable fabrics or styles but rather look their best in floral motifs or a fitted bodice.  You're a parading paradox: As a teenager, you were most likely to pair a prom dress with sneakers or pencil skirt with a tee-shirt.  Your natural sensitivity to color and style can make you an amazing dresser, with a great eye for bargains and vintage treasures.
Your Dream Dress/ Wedding Dress Horoscope:
Part of you longs for a flowing beach dress; the other part yearns for a formal frock.  You'll find the amazing in-between: a gown that flawlessly marries classic glamour with spunky and carefree.   Avoid the overly embellished and opt for a stunning, satin-organza frock that flatters every curve.  Your sign rules the chest, so a gown that skims the figure without revealing too much flesh is most flattering and will keep your cups from overflowing!  Your dream dress will be made of lace, floral embellishments around the waist, a full train, and dainty straps.  The lovely gown will scream with glamour and femininity…and it will be one that cannot be carried better by anyone else but you.
Style icon who shares your sign: Princess Diana
Cancer Seductresses: Jessica Simpson, Khloe Kardashian, Lindsay Lohan,Selma Blair
This article is brought to you by Aleana's Bridal Shop located in the town of Paramus, NJ – Bergen County. We will help you design the dress of your dreams.
https://aleanasbridal.com/wp-content/uploads/2020/04/8020_1-575x779-1-e1589053356912.jpg
623
460
Svetlana Zakharina
https://aleanasbridal.com/wp-content/uploads/2020/04/logo-300x138.png
Svetlana Zakharina
2020-08-01 10:46:31
2020-08-01 10:46:40
Cancer (June 22– July 23) The Soul Sister – Aleana's Bridal Shop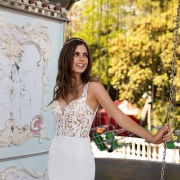 Congrats on your engagement! At such an exciting time in your life and a day you have been dreaming about for years, your happy thoughts and extravagant wedding dreams are interrupted by dollar signs. Between venues, your large family guest list, and the variety of other expenses, weddings tend to become pretty expensive pretty fast. According to The Knot, the average cost of a wedding in New Jersey is $53,400. But don't worry, there are so many ways to drop that final bill while still having the celebration of your life just the way you pictured it! Here are just a few tips to help…
First, try to cut down your guest list as much as possible. Yes, I know… the more people, the bigger the party. But you've all heard the saying "less is more" and cutting down on just a few people can allocate the money to a different aspect of your wedding day (or even your bridal gown or honeymoon!). Second, go into the planning with a budget and look for venues that accommodate to that number. Venues usually account for about half of your wedding expenses so why not use the resources you have to alleviate that cost. Ask a family member or friend if you can use their backyard or rent a vacation home in the area with outdoor space! You just have to find the right spot for you and your partner. One more tip for you, ladies… DIY. Décor, invitations, favors, and flowers. The list goes on and on with the endless possibilities for 'do it yourself'.
The last piece of advice we can offer is that the one thing from your wedding that will always be remembered by you, family and guests is your glowing beauty in your wedding gown. Your wedding will be one for the books. Literally. Those pictures you have will last a lifetime and you want to find that bridal dress that will excite you just as much on your 40-year anniversary as it did on your big day. Just these few ideas can help make your budget a little friendlier while still making your wedding day unforgettable!
This article brought to you by Aleana's Bridal, Paramus, NJ.
https://aleanasbridal.com/wp-content/uploads/2018/03/5fc90b11-43bd-4ac9-92bc-47d9534124cd_lava_b-e1587936689252.jpg
1127
1691
Svetlana Zakharina
https://aleanasbridal.com/wp-content/uploads/2020/04/logo-300x138.png
Svetlana Zakharina
2020-07-31 18:03:37
2020-08-01 12:00:17
Wedding with a Friendly Budget