Your color scheme for the wedding has the power to set the vibe! The colors you choose can seriously affect the overall tone and mood of your wedding, so think about what kind of celebration you want! Always remember to pick up your favorite shade, and the type of style you will use on your wedding invitations. This will give your family and friends a clue about your wedding style (and what they should wear). Here are a few color combinations you could go for:
1. Cream & Gold 
Decor and Picture by: Elizabeth Anne
Consider a cream and gold wedding. These wedding colors could work for any time of the year. This romantic décor can work for a stunning indoor venue, or a relaxed outdoor atmosphere. It's versatility allows it to be a bit rustic, and perfectly refined. Also, gold will always complement the neutral color scheme and isn't forced to fight for attention aside bold colors.
2. Brown and Arctic Blue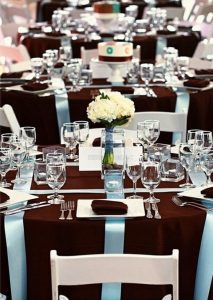 Photography by: Chloe (happywedd)
Blue for your wedding color will create a relaxing and peaceful mood for your wedding in which everyone will feel contended and happy. Navy blue can look great with ivory, champagne and white. Adding brown can make it a gorgeous combo. For this theme, go with white tulips, lilies and maybe hydrangea in blue or white. Adding a handful of peacock feathers will definitely look charming, providing a splash of color to kick off a fabulous day.
3. Rustic Rainbow 
Photography by: Kelly C (boho-weddings)
A colorful wedding is a beautiful wedding. Choosing all the colors of a rainbow to include in your wedding is bold, attention-grabbing and a bit overwhelming. The most important thing to remember when having a colorful wedding is to make sure every color is represented equally. If your wedding is in the spring, choose pastels. If your wedding is in the summer, choose bright and vibrant colors. If your wedding is in the fall, choose dulled shades that are deeper. If your wedding is in the winter, choose cool palettes for all of your colors.
4. Cherry Red
Photography by: The Big Affair (bridebox)
Red is probably the boldest color you can choose for your wedding. It creates a warm and stimulating mood at your wedding with high energy. The attention-seeking color will have all eyes on a bride who wears a red wedding gown, on a reception venue decorated with red flowers and bridesmaids channeling vibrant red dresses. There are many shades of red to choose from, such as coral, burgundy, ruby, crimson, vermilion or maroon, and endless types of flowers like roses, tulips, poppies, peonies and dahlias, just to name a few. This bold color (perfect for the brave & romantic ones) can tint every element of your wedding, from heart-shaped table decorations to a spectacular red velvet wedding cake and red rose bouquets for you and your bridesmaids.
5. Purple & Green
Photography by: Elizabeth Messina (mindyweiss)
Purple is most often associated with royalty. This is because Roman Emperors were often seen wearing purple. Adding a beautiful splash of purple and green to your wedding will create a calming and restful mood. Use lilacs, known for their lovely fragrance which is part of why many brides choose these for their purple pop. While lilacs can also be white, pink, and red, purple lilacs symbolize purity and first love.
6. Turquoise & Lime Green
Photography by: Brittany (tickledpinkbrides)
This bold and bright color combo is pretty chameleonic, and here is why. Depending on the accessories and decorations you choose to display in this sweet yet euphoric mix, your big day can acquire different touches: for a vintage wedding choose powder green, fainted turquoise, and all things antique, for an exotic feel choose a stand-out aqua shade and lots of marine elements, while for a garden-party vibe scatter endless quantities of green hydrangea everywhere and wrap turquoise ribbons around everything. Turquoise will create a refreshing, friendly and happy mood at your wedding.
7.  Kelly Green
Photography by: Sherman Chu (bridalguide)
There are dozens of ways that green can be a beautiful color for a wedding. Whether as an accent or a dominant shade, this gentle color evokes a sense of peace and nature perfect for a romantic celebration. There are many ways to incorporate more green into the floral arrangements, such as: choosing all-green arrangements with green blooms using more ivy, ferns, and other greenery in decorations or wrapping bouquets in green ribbon. The wedding cake is undoubtedly the star of the wedding menu, and adding green accents can make this scrumptious dessert a treat for the eyes as well as the taste buds. Consider green options such as: decorating the cake with greenery rather than flowers or adding faux emeralds or other green jewels to the cake.
8. White & Blue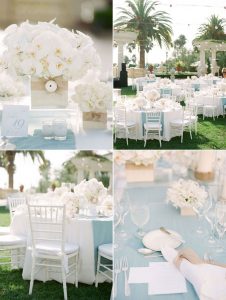 Photography by: Elena & Liam (southboundbride)
A sea-and-sky color theme helps create a crisp, modern wedding. Get inspired by a monochromatic palette of chic sea-glass blues. Print and texture mixing is encouraged, along with a signature sip and dessert bar that perpetuates the color scheme.
This article brought to you by Aleana's Bridal, Paramus, NJ
https://aleanasbridal.com/wp-content/uploads/2016/06/660x440xb58a0c5df354925e0f8aeda22b48f01f.jpg.pagespeed.ic_.WtHty-sKY1.jpg
360
640
Svetlana Zakharina
https://aleanasbridal.com/wp-content/uploads/2016/03/aleanas-bridal-1.png
Svetlana Zakharina
2016-08-04 15:48:05
2016-08-04 15:48:06
8 Ways to Color your Wedding Venue
Here are a few tips on Choosing the Perfect Place to Honeymoon
Pick a place – Start by writing down the top three or five places you and your fiancé want to visit. These could be places you'll have always dreamed of going to, or places where you'll want to take part in some fun activities such as scuba diving, mountain climbing or safari. Or are you itching to see a dozen museums? Or do you want to lie on a beach for a week?
Determine your Budget – Your budget solely depends on the destination you'll have decided to visit. The tourism and stay in some cities or countries are expensive whereas some are not. For example, going to Australia or East Asia will be much more expensive than going to Europe or South America. If you are on a strict budget, consider going to a deluxe hotel in a big city near you for just one or two romantic nights.
Select a Time Frame – Once you'll have decided which country to visit, determine which time of the year is suitable to visit it and vice versa. For example, if you only have a week in January, you probably don't want to go to Russia or Japan because you'll spend a lot of that time on a plane and you'll be exposed to freezing cold temperatures while you are there. Instead, you might have more fun (and more time) in the Bahamas or somewhere else in the Caribbean. While some couples can only take a few days, others have planned on 2 weeks or more.
Make it Romantic and Memorable – Plan surprises. Pick a restaurant you know has your partner's favorite dish, get some chocolates delivered to the room or organize a candle-lit dinner as a dinner surprise – the little things all matter on a honeymoon. Take lots of pictures – whether its secret shots of your partner caught in a candid moment or selfies together. The memories will help you re-live your honeymoon later.
Photograph taken from Hotel Punta Islita, Costa Rica. 
Marriages should start out on the right foot, and there's no better right foot than the perfect honeymoon that's romantic, stress free and unforgettable.
This article brought to you by Aleana's Bridal, Paramus, New Jersey.
https://aleanasbridal.com/wp-content/uploads/2016/07/Unusual-Honeymoon-Destinations.jpg
1472
1920
Svetlana Zakharina
https://aleanasbridal.com/wp-content/uploads/2016/03/aleanas-bridal-1.png
Svetlana Zakharina
2016-08-04 15:38:40
2016-08-09 17:42:27
Choosing the Perfect Honeymoon
Types of Wedding Invitations
There are so many ways to announce the big day to bring excitement. Whether it is customizing your invite, having your own DIY invites or sending it via e-mail – these invitations will be your guests' introduction to your wedding. Your invitations will give your guests a glimpse of what your wedding day is going to be like, and should represent you and your fiancé's vision for that special day.
Use bold colors and patterns if you've decided to customize the wedding invitations. Pick a bold shade which goes with your wedding theme and you could then select up to three complementary colors from your wedding palette to make your invite stand out from the crowd. For example, hot pink and aqua or plum and deep red go well together. Each color goes well with each season. If it's a winter wedding, think about combining silver with white and if it's a summer wedding, go with bright yellow and sunset orange. There are several websites that allow one to choose their style, color, monogram font and more.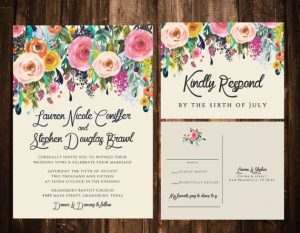 Photo taken from Bold Bohemian Wedding, Pinterest
If you have a tight budget and have decided do it yourself by printing the cards at home, the cost of ink and paper will set you back a bit, especially if you swing for high-quality paper stock or heavily-saturated inks. Using your own machines (computer and printer) means making sure that they are working properly and in sync.
If you want to make it very interesting and fun, you could send your guests e-invites. Create and design them online and then share it with as many people as you want. Or, use social network to spread the word and provide links. By doing it this way, you could also add features such as videos and animations, which won't be possible if you are sending on via post.
For less formal weddings, the simplest and easiest way is definitely word of mouth. It may begin with "Please join us to celebrate," or "We hope you will join us" just to name a few.
Photo from TheKnot
This article brought to you by Aleana's Bridal, Paramus, New Jersey.
https://aleanasbridal.com/wp-content/uploads/2016/07/wedding-invitation-pack-free-vector-906.jpg
626
626
Svetlana Zakharina
https://aleanasbridal.com/wp-content/uploads/2016/03/aleanas-bridal-1.png
Svetlana Zakharina
2016-08-04 15:32:00
2016-08-04 15:32:00
Customized and DIY Invitations