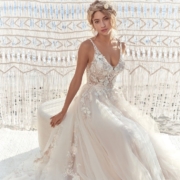 Personality: You're intense, passionate and an expert at zeroing-in on your goals and plucking away at them until the job is done.  Scorpios are secretive and keep emotions bottled up.  You also regenerate quickly in the face of aversion.  The word "quit" doesn't apply to you and you enjoy engaging in a little friendly competition every now and then.  As a water sign, intuition and compassion come easily to you, and are prone to reminiscing here and there.  Your outstanding memory is something memorable: your persona of certainty is one that wins admire of those lucky enough to get to know you.
Style: Mistress of Mystery…the sign of mystery, sex, and seduction…you manage to make even the most conservative, buttoned-up suit feel a little naughty.  You are sultry, fierce, fearless, and love experimenting with animal prints, neon leggings, big hoop earrings and even bigger hair.  Your most-used accessory is confidence – and your favorite colors are red and black.  As a creature of the night, day-into-evening looks work best on you.  Fashion-forward and a love for keeping people guessing, you like to reveal just enough to tease without overdoing it.  Scorpio rules regeneration, so restore what you find in thrift shops or snag accessories made from recycled materials.  Sunglasses are your most favorable asset:  The eyes are the windows to the soul, and you won't be caught dead to be the one to reveal all of your cards first!
Your Dream Dress/ Wedding Dress Horoscope: 
Just because it's your wedding day doesn't mean you can't stay true to the Scorpio's bold, sexy style that displays your passionate and intensity through the clothes you wear on an every day basis.  You are sexy!  So show off whatever you feel is your sexiest body part.   A corseted or a body-hugging sheath with a plunging "V" neckline are a match made in the heavens for Scorpio.  A Scorpio bride does not mind heavy makeup.  She enjoys anything that sets her apart from every other day in her life.  You wish for a wedding dress that is different and unique, featuring lavish gems that fall down the center of the gown, along the collar bone, the waist (creating the illusion of a belt) and throughout the rest of the gown with an exquisite lace detail and a high slit in the front.  Show off your best features, usually your legs and waist, and command all the attention you know you deserve as the bride!  Pair your wedding gown with a high stiletto heel for an added touch of flirtation.
Style icon who shares your sign: Grace Kelly
Scorpio Seductresses: Chloe Sevigny, Demi Moore, Julia Roberts, Anne Hathaway, Katy Perry
This article is brought to you by Aleana's Bridal Shop located in the town of Paramus, NJ – Bergen County. We will help you design the dress of your dreams. Please schedule your first appointment at Aleana's Bridal Shop in Paramus, NJ or call (201) 444-1500.
https://aleanasbridal.com/wp-content/uploads/2012/08/Rebecca-Ingram-Minerva-20RT721-PROMO1-SBLS-e1601147846281.jpg
739
701
Svetlana Zakharina
https://aleanasbridal.com/wp-content/uploads/2020/04/logo-300x138.png
Svetlana Zakharina
2012-08-18 13:30:17
2020-09-26 15:17:34
Wedding gown for Scorpio (Oct 24– Nov 22) The Sultry Siren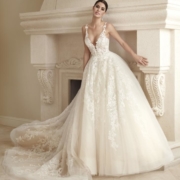 Personality:  People person…charmer…balanced.  You are a staunch defender of "what's right."  You're cultured, worldly and feel the most comfortable at a cocktail party or at a theater event.  You domestic divas thrive off playing hostess in your home, setting up a fine assortment of food and drinks on a delectable dining room table decorated to the finest degree. Nobody can top you when it comes to etiquette…Miss sophisticato Libras know how to conduct real manners!  Libras are great artists and have a good eye for aesthetics.  As Libras are astute, effective communicators, the right thing to say is always on the tip of your tongue.  You speak the truth and have no problem telling it like it is to anybody.  Refined, classy, chic, honest…all of which gives the honorable title of holding the scales to a balanced persona.
Style:  Graceful Goddess…Fair and Foxy…As the aesthetic sign of the Scales, you're all about balance and proportion…you love fine fabrics and tailoring.  You don't get dressed — you put together "outfits."  You know you're better off weighing every choice carefully in a head-to-toe, coordinated ensemble than a mishmash of random separates.  Ruled by Venus, goddess of beauty and love, Libras can pull off romantic and über-feminine styles.  You're drawn to vibrant jewel-tones, floral embroidery, and floor-length, flowing skirts.  A vast collection of chunky necklaces and handmade jewelry are what Libras are known for.  Everything you wear must be dramatic and beautiful: Every good outfit deserves an audience, and as a highly social sign, you'll line up a date or a party to make sure your hard work at the mirror doesn't go unnoticed.
Your Dream Dress/ Wedding Dress Horoscope: 
For you, a graceful gown is as important as the groom!  As a very romantic sign, Libra women usually always strive to look their best… can you imagine how you will feel on your wedding day?  Libras are exacting communicators: make a statement in a sweeping ball room gown with flower details and tiny jewels throughout.  Balanced fashion and beauty consciousness helps to make a Libra bride pretty.  Your most refined and expensive tastes could consider a strapless silhouette that highlights your great bod, beautiful brocade trim, an illusion fabric, even an elegant train to be quite revealing.  With delicate straps bejeweled with sequins, dainty stitching and an extensive train, it's no wonder that you will have your very own bridal audience at the wedding who "oos and aahs" over such a gown.
Impeccable makeup and a dramatic eye add old school glamour to complete your look.  Heaven forbid someone should rush you when you're getting dressed.  You need to take your time to create the right look, carefully applying the perfect shade of lipstick.
Style icon who shares your sign: Kate Winslet
Libra seductresses: Gwyneth Paltrow, Gwen Stefani
This article is brought to you by Aleana's Bridal Shop located in the town of Paramus, NJ – Bergen County.
https://aleanasbridal.com/wp-content/uploads/2020/04/1008-7997-e1601147965629.jpg
474
460
Svetlana Zakharina
https://aleanasbridal.com/wp-content/uploads/2020/04/logo-300x138.png
Svetlana Zakharina
2012-08-18 13:29:35
2020-09-26 15:19:48
Wedding gown for Libra (Sept 24– Oct 23) The Balanced Bombshell – Aleana's Bridal Shop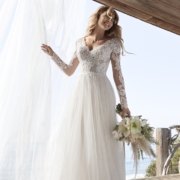 Personality:   Sharp attention to detail, a discerning eye, and reliability epitomize the Virgo.  You're down-to-earth and have a deep sense of commitment to friends, family, and the community.  Your home is sparse and tidy.  You're fussy about what food and products you let into your carefully constructed world.  When shopping with your friends, you will be the one who leaves them behind in the clothing departments as you venture your way through the aisles filled with cleaning products and mops.  A listener who offers honest feedback, a silly partner-in-crime, a heart of pure gold…is what makes Virgos so special.
Style: Fair Maiden…Natural Beauty…Victorian, Virginal Vixen… 
You're the fresh-faced "virgin" of the zodiac, and simplicity is your secret style weapon.  In a sea of bright colors, synthetic fabrics and gaudy embellishments, you take fashion back to basics by making unfussy cuts and all-American fabrics look surprisingly fresh.  Your style is bohemian with a boyish twist.  Brainy Virgo can also rock "geek chic" — nobody makes glasses look sexy quite like you.  Pairing vintage frames with wild curls or flowing hair instantly makes you the hot librarian who's got beauty and brains. What a package!  Cleanliness is next to godliness for you, so a clean signature scent is what you crave; all the better if it's an essential oil or made from pure ingredients. You're an earth sign, so go "green" with your style.  Organic materials like pure cotton, wool and even hemp are flattering and friendly to the planet…and to you.
Your Dream Dress/ Wedding Dress Horoscope: 
Your wedding gown will be a sophisticated eclipse of hippie flower child and Victorian purist.  Think a strapless sheath in Ivory Chantilly lace or a pastel pink dress with ribbon trim.  Virgos want a classic look.  When shopping for a dress, think understated elegance; rich, unadorned satin; an A-line cut; and a short simple sweep train.  You earth girls are dignified and want to mirror that attribute in the gown you choose.  The dress needs to look clean, neat and decidedly bridal.  No chic, cutting-edge designs, no splash of color, and definitely no abundance of tulle.  Think simple, classic elegance.  What would be more perfect then a drop dead gorgeous, dazzling satin gown with embellished belt and a sweeping train?  This marks sophistication while the sparkle from the belt adds character.  Tuck a rose behind one ear for a romantic – and decidedly Virgo finishing touch.
Style icon who shares your sign: Sophia Loren
Virgo seductresses: Stella McCartney, Salma Hayek, Beyoncé, Blake Lively
This article is brought to you by Aleana's Bridal Shop located in the town of Paramus, NJ – Bergen County.
https://aleanasbridal.com/wp-content/uploads/2019/07/Rebecca-Ingram-Iris-20RS656-PROMO2-CH-e1601148032248.jpg
744
768
Svetlana Zakharina
https://aleanasbridal.com/wp-content/uploads/2020/04/logo-300x138.png
Svetlana Zakharina
2012-08-18 13:29:15
2020-09-26 15:21:03
Wedding gown for Virgo (Aug 24– Sept 23) The Victorian Virgin